Puerto Rico Debt-Crisis Plan Passes House in Bipartisan Vote
by
Senate said to plan action before July 1 bond payment deadline

Obama, Ryan, Treasury secretary made the case for passage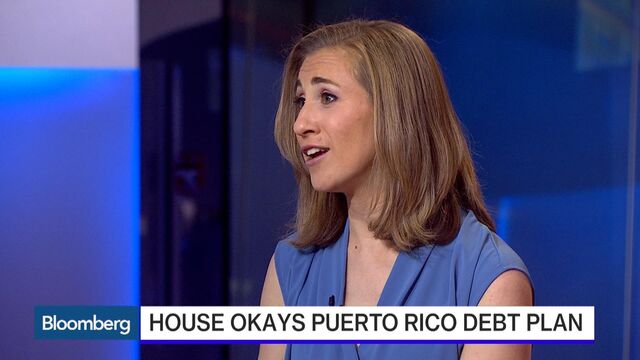 The U.S. House passed a hard-fought, bipartisan compromise designed to stem Puerto Rico's worsening debt crisis after months of wrangling and a significant default.
The legislation, passed 297-127 Thursday, would establish a seven-member financial oversight board to manage a restructuring of Puerto Rico's $70 billion debt and oversee the island's finances. The commonwealth racked up the debt after years of borrowing to cover operating costs. The plan envisions the largest federal intervention into the island's fiscal affairs since it became a U.S. territory in 1898 after the Spanish-American War.
The bill still requires passage by the Senate, which plans to take it up in the next several weeks, according to a Republican leadership aide who asked for anonymity. That means the measure could be on the president's desk before the July 1 deadline for a $2 billion debt payment, which Governor Alejandro Garcia Padilla has said the island cannot pay.
"This is not the legislation I would have written, but it is the only way to extend a life-line to Puerto Rico right now," Puerto Rico-born Representative Nydia Velázquez, a New York Democrat, said before the vote.
House passage comes six months after Speaker Paul Ryan, a Wisconsin Republican, called on House committees to come up with a "responsible solution" to the commonwealth's crushing debt burden. The moment marks one of the most significant accomplishments for the speaker since he took the post last fall -- one where he had to bring along his own reluctant caucus and still rely heavily on Democrats to pass the measure.
"This is a humanitarian disaster in the making," Ryan said on the House floor. "If we do nothing it could be a man-made humanitarian disaster."
Lawmakers faced intense pressure to support the plan, with Ryan, President Barack Obama, Treasury Secretary Jacob J. Lew and House Minority Leader Nancy Pelosi all lobbying them. House leaders had to overcome opposition from some Republicans who call the plan a bailout, although it includes no federal funds, and many Democrats who oppose the plan's lower minimum wage for younger workers in Puerto Rico and limits on overtime pay.
In the vote, 139 Republicans joined 158 Democrats in favor, while 103 Republicans and 24 Democrats opposed it.
White House Press Secretary Josh Earnest, in a statement after the vote, commended the House and said the measure "helps to protect the 3.5 million Americans living in Puerto Rico from further reductions in critical public services while giving Puerto Rico the tools it needs to restructure its debt." He asked the Senate to act quickly so Obama can sign it before July 1.
The measure won't provide any immediate relief to Puerto Rico, but it will give the island a clearer path toward repairing its fiscal affairs. The economically stressed island also is coping with the Zika virus and numerous residents moving to the U.S. mainland.
Some Puerto Rico bonds gained in price Thursday on speculation that the House would pass the bill. Commonwealth general obligations with a 5.25 percent coupon and maturing in 2037 traded Thursday at an average of 62.1 cents on the dollar, the highest since Jan. 29, to yield 9.4 percent, data compiled by Bloomberg show.
Senate Prospects
Senate leaders have said they will take up whatever Puerto Rico bill the House passes, and most senators say there isn't enough time to make changes.
Even so, some Democratic senators, including presidential candidate Bernie Sanders of Vermont and Bob Menendez of New Jersey, are strongly opposed to the House bill and could impose procedural hurdles that would delay its passage. They contend the measure would treat Puerto Rico like a colony.
Under the House bill, the financial control board could ask a judge to order a forced restructuring if the island's government can't reach a deal with bondholders, and it could enforce balanced budgets for Puerto Rico's government and recommend sales of assets.
'It Is Reality'
"It is regrettable that we have reached this point, but it is reality," Puerto Rico's non-voting delegate, Pedro Pierluisi, said during debate on the House floor. "Absent this bill, almost nobody wins and nearly everybody loses."
Bill opponent Luis Gutierrez of Illinois called it "outrageously undemocratic" and told fellow lawmakers, "you are imposing a junta" on the island's residents.
While most House Democrats lined up behind the bill, Republicans -- including their more conservative members -- were more divided. Some, including Representative John Fleming of Louisiana, opposed it because they said the control board wasn't strong enough and the bill lowers the priority for repayment that general bondholders have under current law. Others, including Representative Raul Labrador of Idaho, supported it as the best consensus method of addressing the commonwealth's debt woes.
Yet the most persuasive closing argument for many lawmakers may have been one articulated by, among others, Alabama Republican Bradley Byrne: "What really worries me is that if Congress doesn't act on this legislation, then we will at some point find ourselves facing serious pressure to vote on a true, actual bailout of Puerto Rico. That would be a grave mistake."
A group of unions led by the AFL-CIO urged House Democrats to vote against the bill because of the minimum-wage and overtime pay provisions. The conservative group Heritage Action opposes the measure because it allows debt restructuring and temporarily shields Puerto Rico's government from lawsuits filed by creditors.
The commonwealth's fiscal crisis has been escalating since last June, when Garcia Padilla said the administration couldn't afford to repay $70 billion of debt left by years of borrowing to cover budget shortfalls as the economy contracted and residents left at a record pace for the U.S. mainland. It has since failed to cover $370 million due on bonds sold by the Government Development Bank and $150 million for two other agencies as it conserved cash.
Negotiating With Bondholders
While awaiting action by Congress, Puerto Rico has been negotiating with bondholders and insurance companies to escape from some of its debt. Garcia Padilla has said he will choose to keep essential government services in place over covering debt bills.
The federal oversight board would be virtually impossible to set up before the July 1 deadline, and Puerto Rico bonds are already trading with the expectation that they won't be repaid on time and in full. General obligations maturing in 2035, one of the most frequently traded securities, changed hands Thursday at an average 65.8 cents on the dollar to yield 12.8 percent, data compiled by Bloomberg show. That price has tumbled from 93 cents in March 2014, when they were first sold to investors.
Representative Rob Bishop, the chairman of the Natural Resources Committee that has been overseeing the Puerto Rico legislation, has said he doesn't view July 1 as a crucial time limit to pass it as long as Congress acts soon after then.
Separately, the U.S. Supreme Court is due to rule by the end of June on the fate of a local law that would let the island's public utilities restructure more than $20 billion in debt. A decision backing the law could give new leverage to Puerto Rico's advocates in Congress.
House Bill Amendments
Before passing the bill, the House defeated a Democratic proposal to strip the minimum wage provision on a 196-225 vote.
The bill is H.R. 5278. To expedite action in the Senate by cutting out a procedural hurdle, the measure will be sent to that chamber as an amendment to a separate measure, S. 2328.
Before it's here, it's on the Bloomberg Terminal.
LEARN MORE