Redstone Saga Has Delayed Paramount Stake Sale, Viacom CEO Says
by
Dauman calls 93-year-old billionaire 'my great friend'

Viacom in talks with limited number of investors, CEO says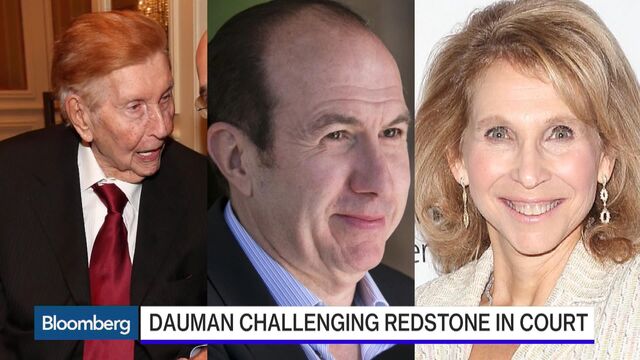 Viacom Inc.'s efforts to sell a stake in Paramount Pictures have been slowed by legal wrangling over controlling shareholder Sumner Redstone's trust, Chief Executive Officer Philippe Dauman said.
"Naturally, recent events have slowed down the process," Dauman said Thursday at Gabelli & Co.'s Movie & Entertainment Conference. "Our original target of the end of June is going to slip. We are going to continue to explore the potential for unlocking value with select partners with strategic value."
More than 40 participants have been involved in discussions on the Paramount stake, and Viacom is having detailed talks with a limited number of potential investors, Dauman said. The company is looking to sell a 49 percent stake in the movie studio, and sees a deal as having $10 a share in value or more per Viacom share, he said.
The comments show Dauman is emboldened to stay the course with his plan to sell a slice of the storied studio even as Redstone, the controlling shareholder, opposes a deal and Dauman's future as Viacom's chief executive is in question.
Click here to read about the payout Dauman could receive if he's fired.
Dauman and Viacom director George Abrams sued last month after Redstone removed them from a trust that controls his $40 billion media empire, which includes Viacom and CBS Corp. Lawyers for the men, who are seeking to be reinstated, urged a judge to hold a quick trial over their claims that the 93-year-old Redstone was mentally impaired when he made the decision to oust them and is being manipulated by his daughter Shari.
Redstone has counter-sued lawsuit in Los Angeles. Earlier this week, Redstone's lawyer told a judge in Massachusetts that the media mogul isn't mentally impaired, just old -- arguing against a request by Dauman to have the billionaire medically evaluated.
Dauman called Redstone "my great friend" in his remarks at the Gabelli event.
Redstone's efforts to reassert control over Viacom, the owner of MTV and Paramount Pictures, have triggered a legal battle. The billionaire said June 3 that he had the backing of four out of seven trustees, which means Dauman and Abrams will be out of the trust even if they win their case.
Viacom shares have declined 34 percent in the past year. The Class B shares fell 2 percent to $43.69 at 11:45 a.m. Thursday.
Before it's here, it's on the Bloomberg Terminal.
LEARN MORE