How's That Credit Hedge Working Out for You?
The ECB's corporate bond buying highlights a long-running difficulty in the credit market.
By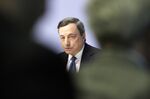 The European Central Bank's "shock and awe" corporate bond buying has failed to impress one corner of the credit market.

Bank of America Corp. analysts led by Ioannis Angelakis point out that while the corporate-sector purchase program (CSPP) has suppressed risk premiums in the market for cash debt, it's done little to tighten spreads in the synthetic market composed of credit default swap (CDS) indexes.