How's That Credit Hedge Working Out for You?
The ECB's corporate bond buying highlights a long-running difficulty in the credit market.
by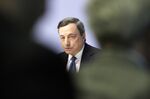 The European Central Bank's "shock and awe" corporate bond buying has failed to impress one corner of the credit market.

Bank of America Corp. analysts led by Ioannis Angelakis point out that while the corporate-sector purchase program (CSPP) has suppressed risk premiums in the market for cash debt, it's done little to tighten spreads in the synthetic market composed of credit default swap (CDS) indexes. 

To the analysts, the opposing paths of cash and synthetic credit can easily be explained by how investors have been using CDS indexes as a way to broadly "overlay" their bond portfolios or bet on the risk sentiment of the overall market. 
"CDS indices are macro risk indicators that we believe reflect broader risk trends. We think that the risks for the future trend for the synthetics market is more attached to broader risk appetite than solely the ECB corporate-quantitative easing program," the analysts write.
With a looming Brexit referendum, disappointing U.S. jobs figures, and continued concerns over China, investors have no shortage of big-picture risks to worry about, which has helped keep CDS indexes elevated at the same time that the ECB's latest acronym crushes risk premiums on cash debt.
But this divergence also illustrates a long-running trend in credit markets, where the use of single-name CDS tied to the fortunes of a single company has all but disappeared at the same time that the volume of cash bonds outstanding has exploded and the debt has arguably become more difficult to trade. Without the tools to precisely hedge credit exposure, investors have been left with a bevy of exotic and sometimes counterintuitive alternatives to protect their expanding portfolios of bonds.
Those tools range from synthetic credit indexes, discussed above, to total return swaps (TRS) and "swaptions," and even the Chicago Board Option Exchange's Volatility Index (VIX), or exchange-traded funds (ETFs) and options tied to them. While many of those products do a fine job of helping protect against broad macro risk, they arguably lack the precision of single-name CDS and can sometimes move in unexpected ways.
The recent divergence between the cash and synthetic credit market in Europe is just the latest example of the difficulty of protecting big portfolios of bonds. Debt investors enjoying the ECB's latest round of largesse haven't really needed a well-functioning hedge, but one day they might.
Before it's here, it's on the Bloomberg Terminal.
LEARN MORE