Germany's Spahn Says U.K. Can Forget EU's 'Good Stuff' If Out
by and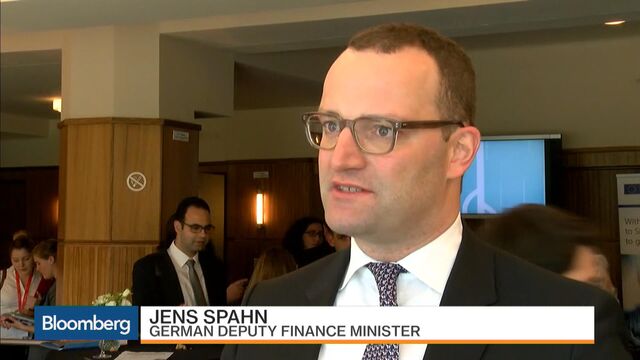 German Deputy Finance Minister Jens Spahn warned Britons that they can't expect to retain the benefits of European Union membership if they decide to leave the bloc in the U.K.'s June 23 referendum.
"Some people think they'll get the good stuff afterwards anyway, the free-trade agreement and the free movement, but it can't be the same," Spahn said in a Bloomberg Television interview in Brussels on Thursday. "It's always different if you're a neighbor or part of the family."
The combination of warning and cajoling by one of Wolfgang Schaeuble's deputies mirrors Chancellor Angela Merkel's stance. While she and Schaeuble are urging Britons to stay, Merkel warned last week that the U.K. would be isolated and lose influence if it left the EU.
U.K. Business Secretary Sajid Javid said this week that leaving the EU could cost British businesses 34.4 billion pounds ($49.7 billion) in "non-tariff barriers" to trade as a result of being outside the single market, a claim that the Leave campaign dismissed as a "random" number. An online poll by YouGov Plc published in Tuesday's Times newspaper showed 'Remain' at 43 percent and 'Leave' at 42 percent.
Before it's here, it's on the Bloomberg Terminal.
LEARN MORE