France Greets Euro 2016 Soccer Fans With Garbage, Strikes
by , , and
Uncollected trash stinks up French capital, Saint-Etienne

President Hollande says will do all necessary to ensure event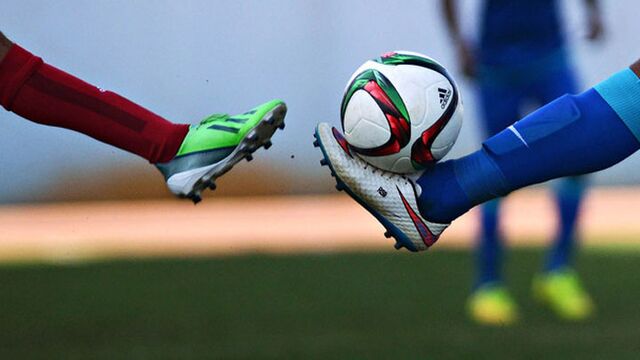 Soccer fans arriving in Paris on Friday for the opening game of the 2016 European championships may stumble on trash left uncollected by striking garbage collectors. That's if their trains haven't been canceled because of a rail workers' strike.
As 10 cities across France prepare for 2.5 million spectators for the monthlong, 51-match tournament, Air France pilots and energy workers are among others threatening walkouts that could disrupt the biggest football championship after the World Cup.
French President Francois Hollande's government said it will take all measures necessary to guarantee the event, including ensuring rail services. "If tomorrow we need to use requisitions, we'll do it," Transport Minister Alain Vidalies said on Europe 1 radio on Friday.

In Paris, the garbage collectors' strike is affecting half the city's 20 districts. Another host city, Saint-Etienne, has also been hit by the garbage strike.
"The image of our country, the image of our capital city is at stake and our citizens are also just fed up," Bruno Julliard, the deputy mayor of Paris, told Public Senat television Thursday. "We are very worried and preoccupied by the cleanliness in some arrondissements."
After five days of strikes, mountains of garage bags have piled up in the heart of the French capital, including such well-frequented sites as Place de l'Opera, the Champs de Mars park at the foot of the Eiffel Tower, where a giant screen will show the games, and in Saint-Germain-des-Pres, a district popular with pub crawlers.
Paris Mayor Anne Hildgo said all the garbage in the capital is being cleared away. "To return to a relatively normal situation, we need several days," she said in an interview on BFM TV on Friday. Some of the trash is being collected by private companies, BFM said.
The uncollected garbage comes just as the city recovers from the rainiest May since record-keeping began in 1886 and as the Seine recedes from its highest levels in 34 years, leaving the river that flows across Paris laced with floating debris.
Guaranteed Service
While the tournament kicks off Friday night with an opening match between host France and Romania, the festivities began with a concert at the Paris fan zone in the shadow of the Eiffel Tower Thursday night with DJ David Guetta. The concert, under high security, drew more than 80,000 people.
Even as striking workers threatened to limit train traffic to the Stade de France, on the northern outskirts of Paris where the opening game will be played, the national rail company SNCF said services will be guaranteed and even increased. About 50,000 people are expected to use public transportation to get to the stadium.
France has stepped up security for the matches. About 90,000 security personnel are being deployed, including 13,000 private contractors. Some of the 10,000 soldiers who have been guarding key sites since last year's terrorist attacks in Paris also will help protect the games, focusing on transport infrastructure.
Labor Law
The tournament is taking place during a tense political period in France with strikers protesting a law that allows companies to negotiate work contracts outside of national labor accords.
Opposition to the so-called El Khomri law has been become a catch-all for long-running disputes. Rail workers have been holding off-and-on strikes for several months to protest a planned reorganization. While most long-distance trains are running, only half of commuter and regional trains have run most days. A four-day walkout by Air France pilots is due to start June 11, with the airline canceling about a quarter of all flights on Saturday. Thursday morning some union members blocked access to Paris's wholesale food market Rungis for several hours.
Philippe Martinez, head of the CGT union that's been at the forefront of the protests against the labor law, said Thursday that his followers won't block soccer spectators.
Weather Forecasts
"I don't think that blocking supporters is the best image we can give to the CGT," Martinez said at a union congress, according to Agence France-Presse. "The CGT wants the Euro to be a real popular festival at both the stadiums and the fan zones."
Opposition to the El Khomri law, however, will continue, he said.
There are other strikes that will probably go unnoticed by football supporters. Protesting workers have reduced electrical output at power stations across the country, though thanks to over-supply there have been no outages yet.
Watch Next: Euro 2016 Kicks Off With Strikes and Terror in the Air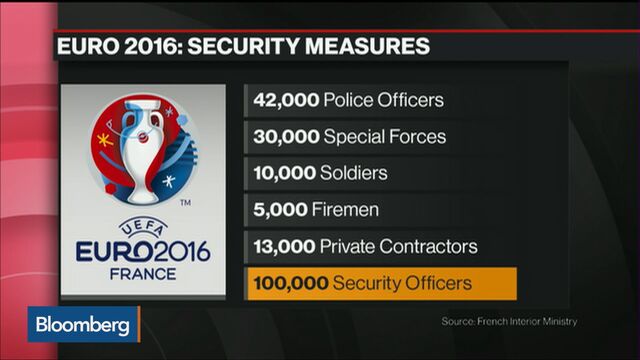 While some of France's refineries are still on strike, the fuel shortages that led to a third of France's gas stations running dry last month are over.
Meanwhile, fans looking for information on whether to dress for rain or sun during the games may be out of luck: weather forecasters have called for a strike next week.
Before it's here, it's on the Bloomberg Terminal.
LEARN MORE