Emirates Plans Cheaper Class to Lure Top Clients
by and
Premium-economy seats would be first at a Persian Gulf airline

Move would bring risk of cannibalizing business-cabin bookings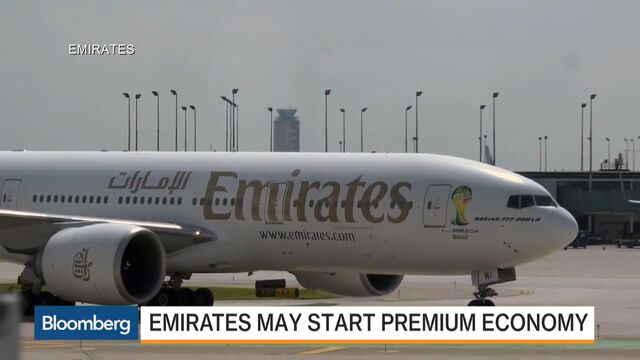 Emirates, the world's biggest international airline, may offer premium-economy seats in a reversal of its resistance to a class combining a touch of luxury with reasonable fares, as declining oil revenues prompt Middle Eastern customers to tighten travel budgets.
Introducing a cabin pitched between coach and business would improve fare flexibility as falling crude prices prompt a "paradigm change" in travel habits among wealthier passengers and companies exposed to the Persian Gulf that took hold elsewhere after the recession, Emirates President Tim Clark said.
Emirates, which counts on petroleum-rich markets for a chunk of bookings, has previously avoided the industry's rush to economy-plus products for fear of cannibalizing sales of more lucrative seats. With oil reaching a 12-year low in February after falling by about one-third in 2015, the Dubai-based airline is now finding it tougher to fill the world's biggest fleet of wide-body jets.
"There's clear and present evidence that this is something that we too should take seriously," Clark said last week at a briefing in Dublin. "The job of the industry is now to adjust to the growing demand in other segments that don't yield as much as the corporate segments did."
Slowing Sales
Emirates, which would become the only major Middle Eastern airline to offer premium economy should it adopt the class, reported its first annual sales decline in a decade in the year through March, while the proportion of first- and business-class seats filled dropped 3.2 percentage points.
A round-trip business-class fare with Emirates in mid-June from Dubai to London is 16,325 dirhams ($4,444), versus 2,415 dirhams in economy. That compares with a premium-class fare of 4,545 dirhams on British Airways, which sells business berths for 14,955 dirhams and coach for 2,375 dirhams.
Premium-economy sections, which provide more legroom than economy seats plus some other extra amenities, have become commonplace after their introduction at London-based Virgin Atlantic in 1992. In contrast to Clark's view of the class as a response to spending cutbacks, the original aim was to generate extra revenue by encouraging lower-paying travelers to upgrade.
"Emirates thinking of a premium-economy product suggests the airline does foresee a hit in business-class revenue on account of demand and affordability," Mark Martin, a Dubai-based consultant to the airline industry.
Blurred Lines
Emirates and regional rivals Qatar Airways and Etihad Airways of Abu Dhabi traditionally offer economy, business and first-class seating, though the Qatari carrier has begun to phase out first and Emirates has started offering only business and economy on some Airbus Group SE A380 double-deckers. Qatar Air and Etihad told Bloomberg they don't plan to add a premium-economy class.
Introducing the hybrid product isn't without risk, with business-class bookings at stake as the distinction between the different seat types blurs and encourages so-called cannibalization. Demand may also not be sufficient on wide-body aircraft that fly short-haul routes such as Emirates's A380 operations among Gulf countries, said Diogenis Papiomytis, director of aerospace and defense at Frost & Sullivan in Dubai.
Adding premium economy would also bring greater complexity to the Emirates fleet, with its A380s alone potentially split between two-, three- and four-class variants, curbing deployment options.
Before it's here, it's on the Bloomberg Terminal.
LEARN MORE