Egypt Inflation Reaches 7-Year High on Pound Weakness, Ramadan
by
Increase follows biggest pound devaluation in over a decade

Central bank had tried to stem inflation with rate increase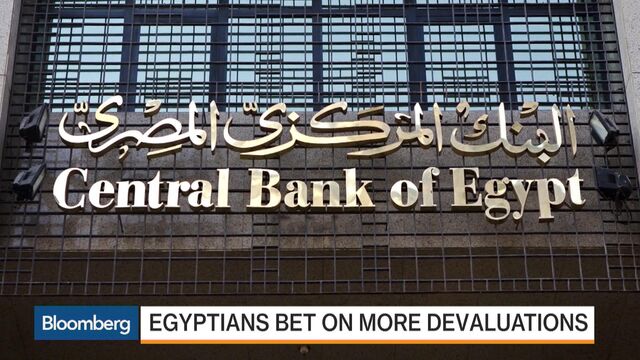 A key inflation gauge monitored by the central bank reached the highest level in seven years in May, another challenge for policy makers trying to tackle a shortage of foreign currency that's slowing growth.
Annual core inflation, a measure of price increases of non-volatile consumer goods, reached 12.23 percent, the highest level since February 2009, compared with 9.51 percent in April, the central bank said in a statement on Thursday. Headline inflation in urban areas soared to 12.3 percent, the highest in a year.
The central bank weakened the pound by the most in more than a decade in March, and promised to adopt a more flexible exchange rate to attract foreign investment that can alleviate the currency shortage. While higher inflation was driven by a "continued pass-through" from the devaluation, demand for food items ahead of Ramadan -- which started this week -- also contributed, said Mohamed Abou Basha, a Cairo-based economist at EFG-Hermes.
The inflation data is likely to increase scrutiny of the central bank's monetary policy committee, which meets on June 16 to review key interest rates. The bank raised rates by 1.5 percentage points in March in a bid to limit inflation stemming from the currency devaluation. In its last meeting on April 28, it kept rates unchanged in expectation of a delayed effect from the March increase.
The bank is unlikely to raise rates next week due to the risk that it would increase treasury yields and further widen the government's fiscal deficit, according to Shady Fakhoury, an economist at Beltone Financial Holding.
Urban inflation was driven by a sharp increase in medicine prices, according to Abou Basha at EFG-Hermes. The government last month approved a 20 percent increase in the price of some drugs manufactured locally, as the weaker pound left production costs higher than sale prices for some companies.
Before it's here, it's on the Bloomberg Terminal.
LEARN MORE