Draghi Says Economic Cost of Reform Delay Too High to Ignore
by
ECB president comments in speech at Brussels economic forum

Says governments should use fiscal policy more effectively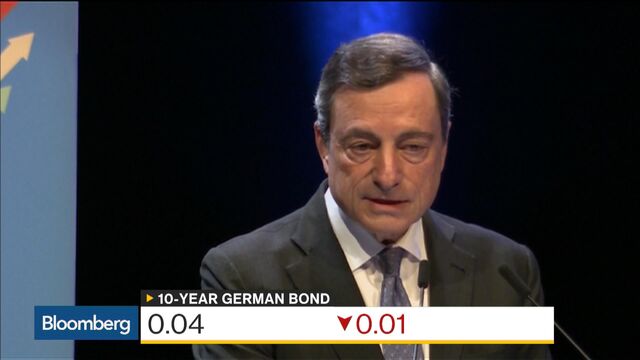 Mario Draghi called on politicians to help the European Central Bank's bid to restore economic health to the region by accelerating reforms.
"There are many understandable political reasons to delay structural reform, but there are few, very few, good economic ones," the ECB president said in a speech in Brussels on Thursday. "The cost of delay is simply too high."
After more than four years of aggressive monetary easing and unprecedented stimulus measures, the ECB is still far short of its inflation goal and is facing growing criticism over its effectiveness of its policies and the financial-stability risks they may create. Draghi's comments reflect increasing concern that governments are undermining the central bank's policies by holding back on reforms, and consequently hurting its credibility.
ECB officials "doing most of the heavy lifting themselves" is "indicative for how most central banks across the globe lost some of their independence if not all of their independence to policy makers," Jan Lambregts, global head of financial-market research at Rabobank in London, said in an interview on Bloomberg radio. "Policy makers have smartened up, they don't want to do all those tough structural reforms. They don't get re-elected when they do those so they pressure the central banks."
Draghi said fiscal policy should not work against monetary policy by curbing aggregate demand, and should be seen as a microeconomic tool to enhance growth. He also called for measures to increase workforce participation and to improve productivity, and said the economic and monetary union must urgently be completed.
"If other policies are not aligned with monetary policy, inflation risks returning to our objective at a slower pace," he said. "I will only note once more the critical need to restore clarity and confidence on the institutional setup of the euro area. We know that the current setup is incomplete."
Other ECB policy makers speaking on Thursday reiterated the message. Francois Villeroy de Galhau, the Bank of France governor, said at the same forum that the euro area suffers from a "trust issue among countries." He urged that separate reforms to improve private and public investment be better coordinated, and that the currency bloc should eventually aim for a full fiscal union with a finance minister.
Ignazio Visco, who heads Italy's central bank, said at a conference in Paris that monetary policy "cannot be left alone" to support the economic recovery.
Before it's here, it's on the Bloomberg Terminal.
LEARN MORE