Dollar Snaps 2-Day Loss as HSBC Says Fed Stuck in Feedback Loop
by
U.S. jobless claims unexpectedly fell to 264,000 last week

Greenback is trending weaker this month after a rally in May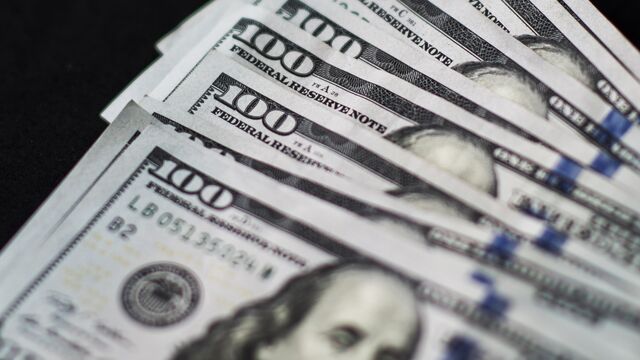 The dollar snapped a two-day decline as a report showed jobless claims in the U.S. unexpectedly fell last week.
The currency strengthened from a one-month low after the employment data offset some concern that the U.S. labor market is slowing. The report comes after Federal Reserve Chair Janet Yellen called May's smaller-than-forecast employment gain "disappointing," in remarks preceding the central bank's policy meeting next week. As the Fed determines when to tighten monetary policy, HSBC Holdings Plc said buying the greenback before an eventual rate increase may be a "self-defeating strategy."

"The U.S. dollar is now firmly caught in a feedback loop: currency weakness increases the possibility of a rate hike," said David Bloom, HSBC's global head of foreign-exchange research in London, in a note. "This in turn provokes dollar buying; however, the resulting dollar strength decreases the likelihood of the hike and thus the dollar weakens." The bank is the world's eighth-biggest currency trader according to Euromoney.
The greenback is on pace for a second straight weekly of decline after a lackluster jobs report weakened the case for the Fed to boost borrowing costs and dimmed prospects for policy divergence with stimulus increases in Europe and Asia. The losses follow a rally in May, when policy makers including Yellen said higher rates in the coming months looked appropriate.
The Bloomberg Dollar Spot Index rose 0.4 percent as of 5 p.m. New York time after falling to a one-month low Thursday. The U.S. currency climbed 0.7 percent against the euro to $1.1316 and gained 0.1 percent to 107.10 yen.
Zero Chance
"The dollar's quite vulnerable after the data last week -- it really takes the Fed out of the equation over the next couple of meetings," Daniel Katzive, head of foreign-exchange strategy for North America at BNP Paribas SA, said in an interview on Bloomberg Television. "That leaves euro-dollar with more scope to move on the upside -- we think $1.16 over the next few weeks is very doable."
While traders see a zero percent chance the Fed will raise rates at its June 15 meeting, there's a 55 percent probability the central bank will hike by year-end, futures data show. The Federal Open Market Committee will end two-day meeting on June 15 with a policy statement, revised economic projections and a news conference.
"We expect the greenback to remain on the back foot until further clarity emerges on a summer rate hike," Mark McCormick, North American head of foreign-exchange strategy at Toronto-Dominion, said in an e-mail. "Events over the past week offer some tactical opportunities to sell the U.S. dollar."
Before it's here, it's on the Bloomberg Terminal.
LEARN MORE