Coca-Cola German Bottler CEO Is Said to Take Leave From Company
by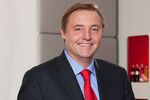 Ulrik Nehammer, head of Coca-Cola Co.'s German bottler and distributor, is taking a six-month sabbatical from the company and may seek a new position outside the Coke empire, according to a person familiar with the situation.
Nehammer will start his leave on July 1 to spend time traveling with his family, said the person, who asked not to be identified because the plans aren't public. The 48-year-old had sought the top job at Coca-Cola European Partners Plc -- a new pan-European bottler that was created May 31 -- but another executive is in line to take that position, the person said.
The move follows a global shake-up in the operations of the world's largest soft-drink maker and its affiliates. Coca-Cola has been offloading more of its bottling operations, letting it focus on developing drinks and selling the concentrates and syrups to partners. The company's bottlers, meanwhile, are teaming up to give themselves more clout. The new Coca-Cola European Partners consolidates bottlers in the U.K. and Western Europe.
Nehammer became chief executive officer of Coca-Cola Erfrischungsgetränke, the German bottling business, in 2012. He has spent several years modernizing the operations with new technology and cost cuts. He may now seek a new position in a different industry that capitalizes on his experience managing operations and information technology, the person said.
Top Bottling Job
He had sought the European Partners CEO post, which is currently held by John Brock, 68. But Damian Gammell, who joined as chief operating officer last year, is first in line to succeed Brock, the person familiar with the situation said.
Patrick Kammerer, a company spokesman, declined to comment.
In a separate move, the German unit's head of human resources, Frank Molthan, will be named general manager of the Berlin-based division.
Nehammer, a native of Denmark, joined Coca-Cola in 1992 and has held positions in Europe and Asia. As head of the German business, he revamped its technology by overhauling software for taking inventory in the field and introducing new smartphone and iPad dashboards for managers.
The company also introduced an app for small restaurants and cafes to handle digital ordering, based on technology from Salesforce.com Inc. The executive has appeared with Salesforce CEO Marc Benioff at conferences and has a close association with the San Francisco tech executive.
Before it's here, it's on the Bloomberg Terminal.
LEARN MORE