China's Factory-Gate Deflation Eases in Capacity-Cut Drive
Bloomberg News
Producer price index fell 2.8%, the least since late 2014

Deflationary threat 'has substantially diminished,' ANZ says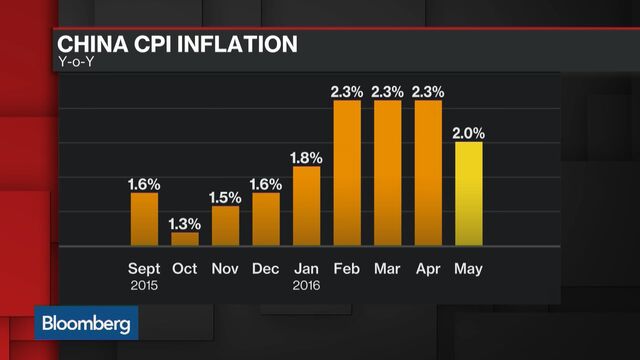 Deflationary pressures in China's industries eased further in May, while consumer price gains continued to be subdued enough to offer the central bank scope for more easing if needed.
Amid a drive by the Communist Party leadership to cut excess capacity, producer prices fell 2.8 percent, the least since late 2014 and less than the 3.2 percent decline economists had estimated in a Bloomberg survey. The consumer price index rose 2 percent from a year earlier, less than the median forecast of 2.2 percent.
Easing factory-gate deflation is the latest signal of stabilization after more than four years of falling producer prices. Tepid consumer price gains may allow the People's Bank of China, which has kept interest rates at a record low since October, room to add further stimulus in the short term to help prop up growth.
"The deflationary threat has substantially diminished," said Raymond Yeung, a senior economist with Australia & New Zealand Banking Group Ltd. in Hong Kong. "Domestic demand has stabilized so we don't see a strong upward pressure either. We still think the PBOC will remain moderately accommodative."

The National Bureau of Statistics released the price data on Thursday, when markets in China and Hong Kong were closed for the Dragon Boat Festival holiday.
Mining and raw-materials producer prices slumped less in May than the previous month, though still recorded the biggest declines. Mining producer goods fell 9.6 percent last month, versus a 13 percent drop in April, while raw-material producer prices fell 7.2 percent, less than the prior month's 7.7 percent decline, the statistics bureau reported.
"Firmer producer prices reflect a combination of factors," Bloomberg Intelligence economists Tom Orlik and Fielding Chen wrote in a note. "Commodity prices are a big part of the picture, with oil and iron ore both down less sharply than in 2015. So, too, is slightly more resilient domestic demand. Capacity utilization remains extremely low in historical comparison, but has ticked up over the last few months."
Producer prices haven't risen since January 2012. Having an end in sight for PPI deflation may be welcome news for policy makers, who are striving to keep economic growth above 6.5 percent this year while keeping a lid on debt and cutting excess capacity in industries including coal and steel. The first quarter's 6.7 percent expansion may slow to 6.6 percent in the second quarter and 6.5 percent in the third, according to economists surveyed by Bloomberg.
Tame Inflation
Watch Next: The Deflationary Forces Giving Central Banks a Headache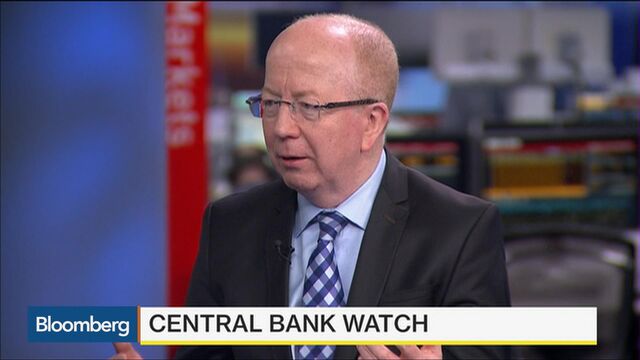 For consumers, vegetable prices dropped 21.5 percent in May from April, while pork and gas prices rose, the statistics bureau said. Compared with a year earlier, gains in food prices slowed to 5.9 percent from 7.4 percent in April. Non-food prices rose 1.1 percent.
"CPI inflation is tame," said Shen Jianguang, chief Asia economist at Mizuho Securities Asia Ltd. in Hong Kong. "This is good for the PBOC to maintain the current pace of monetary easing."
PBOC economists raised their forecast for full-year CPI to 2.4 percent from 1.7 percent in a working paper published Wednesday, citing increasing commodities and food costs, as well as higher rents stemming from surging home prices in some cities. They kept their PPI estimate unchanged for a decline of 1.8 percent.
— With assistance by Xiaoqing Pi
Before it's here, it's on the Bloomberg Terminal.
LEARN MORE