Central Banks' Inflation Struggle Is Just Futile, McCaughan Says
by and
Investor says 'we've got to get used to a bit of deflation'

Technological-driven price drop is 'not necessarily bad'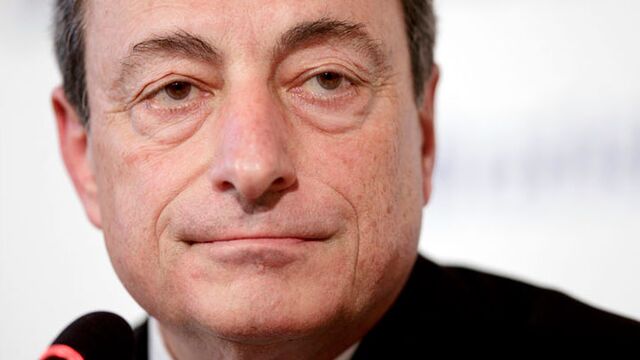 There's no point worrying too much about deflation because a lot of it is systemically driven by technological change, says Jim McCaughan of Principal Global Investors.
On the second day of the European Central Bank's inaugural push into corporate-bond buying in its struggle to ignite inflation, the chief executive officer at the New York-based fund suggested that such institutions should maybe just relax a bit.
"I personally think we should give up on it," McCaughan told Bloomberg Television. "I don't think inflation is something that's going to be easy to create in the technological environment that we're in."
McCaughan, whose fund oversees more than $350 billion in assets, cited a combination of robotics and factory efficiencies as well as enhanced quality and durability of the technologically driven goods they produce. Falling consumer prices may not only be unstoppable but also not necessarily bad, he said, facing a chart showing another month of deflationary pressures at Chinese factories in May, albeit with an easing in the pace of decline.
"If I were a central banker, I would try not to worry about this graph, and try to look at real measures of what real economic activity actually is, and perhaps focus a bit on nominal GDP as well as on real," McCaughan said. "We've got to get used to a bit of deflation because of technology."
Intelligent Cars
McCaughan cited cars as an example of increasingly technologically enhanced products, whose sensors help avert collisions while parking or driving.
"Which means there's less repairs, which hits nominal GDP," he said. "Now that's not necessarily bad: All it's doing is reducing the cost of ownership, which is classic deflation, and I think the world economy has a systemic deflation because of the implementation of digital technology."
McCaughan also touched on themes covered by Mario Draghi on Thursday in Brussels, where the ECB president said that the cost of delaying structural reforms in the euro region is too high.
"Part of the problem for the central banks is, they've all been given too much to do," McCaughan said. "Japan and Europe are trying to do it all with only one tool, with only monetary stimulus and that actually is the fundamental problem I believe, rather than necessarily whether you get this systemic deflation or not."
U.S. Recovery
McCaughan remains optimistic on the U.S. recovery despite last week's poor labor-market report, and that's driving his investment outlook.
"It's still worth buying U.S. equities if they have setbacks," he said. "Where there may be a bubble is the third of so of developed-market government bonds that are on negative rates. That may well be somewhat unsustainable and that's because of the policy imbalance I mentioned earlier: it's because they're trying to do too much with monetary policy."
Before it's here, it's on the Bloomberg Terminal.
LEARN MORE