Blackstone Turns to Investment Banking Model to Court the Rich
By
Firms trying to attract some of $4 trillion in family capital

Wealthy families are seeking private businesses, real estate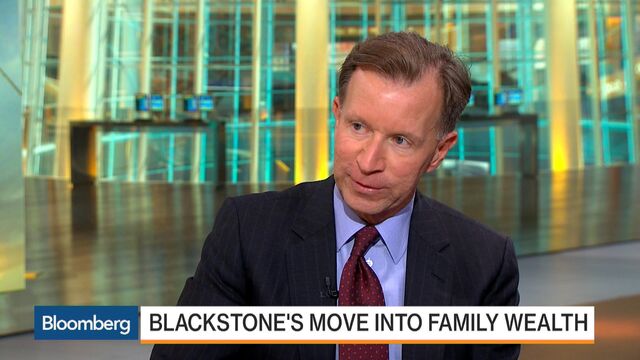 Blackstone Group LP adopts more of an investment banking model when it courts wealthy families, focusing on forming long-term relationships rather than selling them specific fund offerings, partner John Studzinski said.
"In many cases we are shifting from a pure product orientation to a longer-term relationship management," Studzinski, Blackstone's ambassador to wealthy families and sovereign wealth funds, said Thursday in an interview with Bloomberg TV's Erik Schatzker. "It's more of an investment banking model as opposed to an asset management model."
Rich families globally have an estimated $4 trillion in wealth that's up for grabs by money managers and other destinations such as private businesses or real estate operators seeking capital. The biggest alternative-asset firms, including New York-based Blackstone, Carlyle Group LP and KKR & Co., are stepping up their efforts to keep a slice of the action. Blackstone put Studzinski, 60, into his current role last year after spinning off his merger and fundraising advisory groups, which combined with PJT Partners Inc.
Family offices pour an average of 27 percent of their assets into private equity funds, according to research firm Preqin. And family money represents 9 percent of capital in such funds, more than double from five years ago. Carlyle co-founder David Rubenstein in April said family offices, along with sovereign wealth funds, are the Washington-based firm's fastest-growing sources of new money.
Wealthy Deal-making
At the same time, rich families are increasingly seeking ways to bypass wealth managers by doing deals on their own. Almost 70 percent of family offices engage in direct investing, according to an April survey of 80 families by the Family Office Exchange. The practice allows them to avoid paying fees to buyout firms, which typically charge an annual management fee of 1 percent to 2 percent while keeping 20 percent of deal profits.
"Families are interested not just in saying, OK, invest in this private equity fund, invest in this credit vehicle," Studzinski said. "They're also interested in deal flow, they're interested in co-investing with us, they're interested in us helping them solve some of their problems."
Studzinski, who came to Blackstone in 2006 from HSBC Holdings Plc and previously Morgan Stanley, said his aim is to "demystify Blackstone" by showing wealthy families the different areas of expertise embedded among the firm's more than 2,000 employees. Blackstone managed $95 billion in private equity holdings, $101 billion in real estate, $68 billion in hedge funds and $79 billion in credit assets as of March 31.
"Those people want to look at projects, they want to look at buildings, they want to look at operating businesses," Studzinski said of the families he speaks to. "You're looking at families whose wealth is in excess of $2 billion to $5 billion. You're looking at families that have money to invest in alternatives of $25 million, $50 million, $100 million a year."