Barclays Bets on Video Tellers as Branches Dwindle
At the U.K. bank, tellers must get the camera angle right.
By and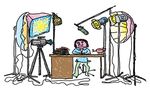 Over the course of her 31-year career at the U.K. bank Barclays, Jayne Newton went from being a cashier in a branch to making home visits to wealthy clients in the heady days before the financial crisis. She still works with customers face-to-face today—sort of. She's one of the bank's 60 video tellers, spending her days in front of a webcam in a noise-resistant pod at an office in Liverpool.
Newton says she likes working on camera, but it's demanding. "Before I do every video, I always make sure I brush my hair and put my lipstick on," she says. "You make sure you keep your facial expressions in control."
Jackie Brambles, a former TV show host, helped Barclays employees get comfortable on camera. "It's a real juggling act," she says. "They have to be able to look into that tiny little pinhole of a webcam and be engaging and informative and lovely and polite, but at the same time have that surreptitious little glance to make sure: 'Am I being understood? Is this person getting it? Are they happy?' "
After piloting video for select customers for about a year, Barclays started expanding it in April and plans to have 110 video bankers by yearend. They'll be reachable 24 hours a day by tapping a button in the bank's mobile app or clicking a link on its website.
Although the bank continues to eliminate branches—from 2,000 in the U.K. a decade ago to 1,362 in 2015—managers insist video banking isn't driven by cost cuts. "This isn't about forcing people to change the way they talk to us," says Steven Cooper, head of personal banking at Barclays. "It's about giving customers choice." Barclays is looking for ways to connect with its customers and, more important, hang on to them in the face of competition from financial-technology startups promising to let people manage their money from a smartphone.
Cooper echoes the gospel of digital-banking consultants, who argue the service should be used to make customers feel personally valued. Video tellers can act as a human support system for consumers opening an account, transferring money, or researching a loan.
Barclays has tried to simulate the branch experience. The bankers, three-quarters of whom are women, wear turquoise and navy uniforms and sit in front of a matching screen embossed with the company's logo. For the initial training, Brambles had a makeup artist give tips to men and women alike on how to enhance one's appearance for the camera.
A video service doesn't necessarily make branches redundant: HSBC offers video banking for mortgage queries via kiosks in 39 of its U.K. locations. It plans to expand the service later this year, says Nigel Hinshelwood, head of the bank's U.K. business.
Some financial companies have tried video and found the investment in training and technology not worth the trouble. Citigroup and American Express have piloted services—American Express had agents available via an iPad app—which they nixed.
The technology only recently became reliable and cheap enough for mass adoption by banks, says Alyson Clarke, an analyst with Forrester Research. "It's hard to connect with a customer unless you've got a high-quality image on screen," she says. "I don't want to have a video conversation with my bank and feel like I'm talking to my grandma on Skype."
The bottom line: Cheaper tech makes video banking possible, but making it personal still takes work. Barclays hired a media consultant to help.
Before it's here, it's on the Bloomberg Terminal.
LEARN MORE