Arcadia's Widening Pension Deficit Adds to Green's Challenges
By
Pension-fund deficit rises to about 190 million pounds

Green's role in BHS's increased pension deficit being probed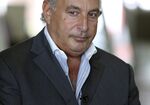 The pension deficit of U.K. fashion retailer Arcadia Group widened by 52 percent in its last financial year, adding to the challenges facing billionaire owner Philip Green.
The combined deficit of Arcadia's group pension program and its senior executive pension program jumped to 189.6 million pounds ($274 million) in the year through August, according to accounts filed at U.K. Companies House. The funding gap stood at 124.6 million pounds a year earlier, the prior year's accounts showed. The figures exclude the BHS chain, which Green sold last year prior to its eventual collapse.
News of Arcadia's increased deficit comes at a time when a parliamentary committee is probing Green's role in allowing the pension deficit of BHS to rise to 571 million pounds before he sold the now-failed chain for a pound to Dominic Chappell.
Chappell, a former race-car driver with no previous retail experience, on Wednesday contended before the committee that Green blocked a planned rescue of BHS before it collapsed with the loss of 11,000 jobs. Green will get his say when he appears on June 15 as the U.K. pensions regulator investigates whether to demand contributions from him into the BHS pension program.
Arcadia has reduced its pension liabilities by offering some members a one-time payment to move their pension into another program, the latest accounts show.
"A number of of companies have done this to reduce the value of their overall pension liabilities," said John Ralfe, an independent pensions expert. "It also helps them clean up their pension scheme by transferring people with small pensions."
U.K. company pension deficits have widened in recent years as low interest rates reduced the return on pension plans' investments.
Arcadia's accounts also show that the company waived 216.8 million pounds of an inter-company loan due to BHS and booked a loss of 27.9 million pounds when it sold the chain to Chappell last year. Arcadia paid advisers 2.3 million pounds for their work on the sale.