World's Biggest Upside on Offer in This Battered Airline Stock
by
Analysts see 50% upside on shares of Turkish Airlines

Company's stock lost almost 20 percent so far this year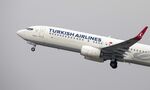 Turkish Airlines is being tipped to soar about 50 percent over the next 12 months, more than any of its peers worldwide, should it ride out the nation's security fears.
The average price target of 29 analysts is 9.09 liras ($3.15) a share, compared with the closing price on Wednesday of 6.09 liras, according to data compiled by Bloomberg. That's the biggest potential return among airline companies with a market capitalization of $1 billion or more.

While Turk Hava Yollari AO, as the company is officially known, has growth plans that include a 20 percent boost to its capacity in the second half of 2016, it posted its worst quarterly loss since at least 1999 in the three months ending March after a series of terror attacks in the country and the lira's decline slowed business. The company's stock has lost almost a fifth of its value this year, compared with a 9.9 percent increase in the Borsa Istanbul 100 Index.
"Turkish Airlines' profitability issue is a temporary one and we believe the impact of security risks is not likely to last beyond 2016," said Alper Paksoy, an analyst at TEB Investment in Istanbul, a unit of BNP Paribas SA, who has a buy recommendation on the stock. "Once Turkey-related security risks are over, the company's profitability will start recovering. If investors are willing to take Turkey specific risks in the near term, the stock should reward them in the long term."
While European airlines grapple with increasing competition from rivals in the Gulf Arab countries, Turkish Airlines is looking to expand. The carrier plans to boost its fleet size to 436 planes by 2022 from 299 last year, and is one of the fastest-growing airlines in the world.
Before it's here, it's on the Bloomberg Terminal.
LEARN MORE