Uber CEO Wants to Partner With Automakers, Not Build Cars
by
Daimler and Uber could be 'frenemies,' Daimler CEO says

Ride-sharing apps have drawn $9 billion in funding this year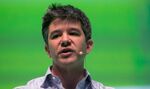 Uber Technologies Inc. wants to work with carmakers, not build vehicles itself, Chief Executive Officer Travis Kalanick said, leaving open the possibility of more partnerships after last month's agreement with Toyota Motor Corp.
Just go to a German manufacturing facility, "and you will very quickly realize you do not want to make cars," Kalanick said at a panel in Berlin with Daimler AG CEO Dieter Zetsche, citing a visit to a Daimler factory near Stuttgart. Instead of seeking to acquire its own automaking capacity, he said Uber will "work with companies that make them."
Trading compliments after riding onstage together in a yellow Cold War-era Trabant, Kalanick and Zetsche ducked questions about whether the two companies will work together. Zetsche said Daimler chose chauffeur portal Blacklane for a 2013 investment because the carmaker could have a "dominating impact." Kalanick said he'd be glad to take Daimler's money but wouldn't want an investor to have such a big role.
Uber is in partnership talks with Fiat Chrysler Automobiles NV, people familiar with the matter said Wednesday. The technology company is also talking to other carmakers, one of the people said. Ride-sharing apps have drawn some $9 billion in funding since Jan. 1, including Saudi Arabia's $3.5 billion investment in Uber last week, as investors seek a stake in an industry that's challenging the concept of car ownership.
"Car companies have realized that especially in an urban area, people don't own a car, but they need to use one sometimes," said Martyn Briggs, a transportation expert at Frost & Sullivan. "They're looking at a longer-term view."
'New Magic'
Uber is also looking into the future, testing autonomous driving technology and joining an advocacy group for safety regulations for self-driving vehicles, a field Daimler helped pioneer. Taxis that pilot themselves would allow Uber to eliminate human drivers and further reduce downtime for cars, resulting in less time spent parked and more on the road.
"They're building magic that we've gotten used to," Kalanick said of Daimler's carmaking. "But guess what, when that thing goes autonomous there's going to be a whole new kind of magic."
Uber is worth $62.5 billion, based on Saudi Arabia's investment in the company. Daimler, which traces its roots to the inventors of the automobile, is valued at 63 billion euros ($71.6 billion). The carmaker owns the Car2Go car-sharing service.
To master the changes in the industry, Daimler needs to transform itself even more into a mobility provider rather than just a manufacturer of cars and trucks, Zetsche said.
"We want to be at the forefront, we want to create this change, rather than being changed," Zetsche said, suggesting that Uber and Daimler could be "frenemies," both competitors and friends. "I think that is the best way to win the future."
Before it's here, it's on the Bloomberg Terminal.
LEARN MORE