U.S. Stocks Climb, S&P 500 Index Edges Nearer to All-Time High
By
Commodity, industrial shares support gains as dollar sags

Equities continue advance, defying dour investor sentiment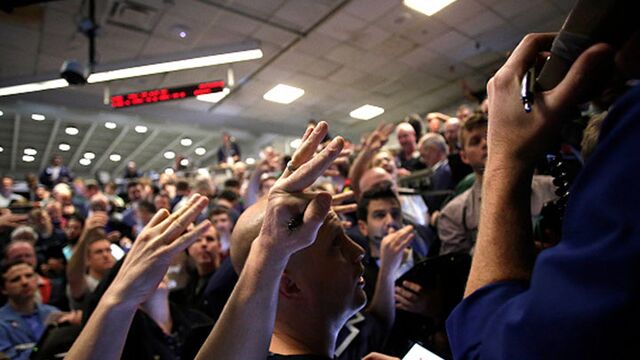 U.S. stocks climbed, with the S&P 500 Index edging closer to a record, bolstered by speculation borrowing costs will remain lower for longer amid moderate growth.
Companies that benefit from a sagging dollar were the strongest performers, with raw-material and industrial companies leading gains. Caterpillar Inc. increased 1.7 percent, extending its longest winning streak in two months, and copper miner Freeport-McMoRan Inc. added 3 percent. Energy producers erased an early rally, even as oil climbed to a 10-month high.
The S&P 500 rose 0.3 percent to 2,119.12 at 4 p.m. in New York, the highest since July 21, 2015 and 0.6 percent from a record. The Dow Jones Industrial Average added 66.77 points, or 0.4 percent, to 18,005.05, a six-week high. The Nasdaq Composite Index increased 0.3 percent. About 6.5 billion shares traded hands on U.S. exchanges, 8 percent below the three-month average.
"No matter what you throw at this market, it keeps wanting to go higher," said Walter Todd, who oversees about $1.1 billion as chief investment officer for Greenwood Capital Associates LLC in South Carolina. "Sentiment, as has been well documented, is pretty bad and the market tends to inflict the most pain on the most people. And the most people it seems are underweight the market or out of the market."
Federal Reserve Chair Janet Yellen's remarks this week that the U.S. economy is making progress and indications that policy makers won't prematurely raise interest rates have helped support stocks. Traders have cut back their bets for a Fed rate increase, now pricing in no chance of a boost in June, with the probability for July down to 18 percent from 53 percent a week ago.

Energy producers in the benchmark index slipped from the highest level since November, after their strongest back-to-back gains in three months. Advances in commodity-related shares have helped drive the S&P 500's 16 percent rebound from a 22-month low in February as crude recovered from a 12-year nadir. Raw-material companies climbed for a sixth day, the longest since October, as a gauge on the dollar extended declines to a one-month low.
The rally has been reinvigorated after losing momentum following the S&P 500's four-month high on April 20. The index has climbed in eight of 11 sessions, racking up nearly all of this year's 3.7 percent gain in the last two weeks. About 70 percent of stocks on the New York Stock Exchange closed Tuesday above their average prices during the past 200 days, the most since July 2014.
Grinding Higher
Meanwhile, the main U.S. equity benchmark's recent climb has been grinding, with the S&P 500 moving no more than 0.5 percent in either direction for a ninth straight day, the longest stretch since 2014.
The weakest monthly job gains since 2010 were a source of hesitation for investors last week, prompting the only setback for equities in the past six sessions. Further indications on the health of the economy are sparse this week, with data on U.S. wholesale inventories and consumer sentiment scheduled for tomorrow and Friday, respectively. A report from China today indicated exports are stabilizing, while the World Bank cut its 2016 global growth forecast.
In Wednesday's trading, S&P 500 industrials, raw-materials, utilities and consumer staples shares rose the most. Phone companies fell for the second time in three days, and energy stocks retreated. A Goldman Sachs Group Inc. basket of the most shorted shares in the Russell 3000 Index climbed for the eighth time in nine sessions and headed toward a fourth weekly gain.
The CBOE Volatility Index rose 0.2 percent to 14.08. The measure of market turbulence known as the VIX was on pace for a second straight weekly climb and a fourth in the last five.
Railroads were standouts in the industrial group, with Union Pacific Corp. rallying for a fifth day, the longest in eight months, while Norfolk Southern Corp. and CSX Corp. gained more than 2 percent. In remarks at a Deutsche Bank AG conference, CSX's chief financial officer said he sees a "positive pricing environment," and strength in the U.S. consumer.
Materials Rally
Raw-materials in the benchmark returned to the highest in almost 11 months, after first reaching the level in late April. Steel company Nucor Corp. gained 2.8 percent to an 18-month high, and PPG Industries Inc. increased 3 percent, the best since March 1.
Health-care companies rebounded, led by UnitedHealth Group Inc.'s 2.5 percent rally, its strongest since April 20. The shares climbed to a record after the company raised its dividend by 25 percent. Centene Corp. and Cigna Corp. rose more than 1.7 percent, while hospital operator HCA Holdings Inc. advanced 2.2 percent.
Valero Energy Corp. and Devon Energy Corp. fell at least 2.2 percent to weigh on energy shares. The group wiped out an early 1 percent rally, despite West Texas Intermediate crude futures rising 1.7 percent to settled above $51 a barrel. The sector also produced the S&P 500's best and worst performers today, with Chesapeake Energy Corp. rising 6.4 percent and Southwestern Energy Co. sliding 7.2 percent.
"There's definitely reason for the market to take a breather in conjunction with the notion that we're near all-time highs," said Frank Cappelleri, executive director at Instinet LLC. "Treading water at these levels to be honest would be pretty constructive."