U.K. Labour Missing in Brexit Action Leaves Cameron Exposed
by
Almost half of Labour voters don't know which side party takes

Party has 'monumental and historic responsibility,' Khan Says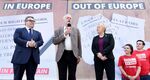 When Labour lawmaker Angela Eagle goes head-to-head with Boris Johnson during a televised debate on Thursday evening, it will be the main opposition party's first chance to challenge a leading Brexit advocate from the ruling Conservatives.
Brexit Watch: The pound, the polls, and the probability of Brexit, all in one place
Labour's low profile during the European Union referendum campaign shows how far the race has been dominated by increasingly terse exchanges between David Cameron and members of his own party such as former London Mayor Johnson, who have broken with the prime minister to make the case for "Leave."
That's as big a problem for Cameron as it is for Labour, since the support of people who didn't vote Conservative in last year's general election -- more than 75 percent of registered voters -- will be crucial if the U.K. is to remain in the bloc after June 23. With just two weeks to the referendum, a continued Labour absence risks fatally undermining "Remain" and making the "Leave" camp stronger.
"There's no way to a victory for 'Remain' in the referendum without a substantial number of Labour voters,"  Phil Cowley, professor of politics at Queen Mary, University of London, said in an interview. The dilemma is that internal Tory "blue-on-blue attacks are just a much better story."
As opposition parties struggle to get airtime, the electorate has become confused over which side in the campaign they're supporting. A YouGov Plc poll for the London-based Times newspaper last week showed that 45 percent of Labour voters either didn't know which side the party was on or thought it backed Brexit. (It doesn't.)
For Tony Blair's take on the Brexit campaign, click here
Labour, which pledged to stay in the EU and not to hold a referendum at all in last year's general election, has focused its campaign on protecting rights for workers, including paid holidays and maternity leave, arguing they would be stripped away as "red tape" if Britain were to quit the bloc.
Labour leader Jeremy Corbyn complained he's been ignored by the media as he traveled the country making that case, but the battles in the Conservative Party have certainly been compelling. Cameron "called out" Justice Secretary Michael Gove and Johnson as liars on Tuesday, then denounced U.K. Independence Party leader Nigel Farage's views on Europe, which are shared by many Tory rank-and-file lawmakers and members, as those of a "Little Englander."
Playground Fight
"It's like a fight in a school playground: Everyone crowds around and wants to know what's going to happen next," said former Liberal Democrat leader Nick Clegg. "I get that. But it's not very inspiring to people who aren't part of the 24 percent of registered voters who voted Conservative."
With polls unreliable but pointing to a close race, turnout may be key to the outcome. That makes it all the more critical that party activists reach voters on the ground. Labour and their traditional labor-union allies say they are working to mobilize voters as local Conservative associations, many dominated by euro-skeptics, sit on their hands.
"The Labour Party now has a monumental and historic responsibility on our shoulders -- to keep Britain in the European Union," London Mayor Sadiq Khan said on Thursday. "Every day we see another example of why David Cameron and the Tories simply cannot win this referendum as they lose credibility with the public. They are too divided and too riven by division. It now falls to us, and it's time for us to step up."
Labour Appeal
His appeal echoed former Labour leaders, including ex-Prime Ministers Gordon Brown and Tony Blair, who wrote a letter to the Guardian newspaper published Saturday warning of the risks if the party fails to motivate its supporters and activists.
"If Labour stays at home, Britain leaves," they wrote. "A vote to leave is a vote for a profound and permanent loss the whole country would feel, whether through lost jobs or lost generations. Only Labour can save Britain from Brexit."
Good for Bees
Within the party, some are reluctant to risk being seen to help Cameron achieve a victory, knowing they'll need the support of anti-EU voters to win a majority in the next general election. Corbyn, who voted to leave Europe in a previous referendum in 1975, has been accused of being lukewarm in his support -- and it can show. In a speech last week listing the bloc's crowning achievements, he opened with clean beaches and enhanced protection for bees.
Labour's experience in Scotland, where it was wiped out by the Scottish National Party after campaigning with the prime minister against Scottish independence in 2014, offers a cautionary lesson against cooperation with the Conservatives.
"After their experience in Scotland, there is a fear within the Labour Party of being too closely aligned with the establishment," said academic Cowley. "Are they really going to be going around council estates in Grimsby knocking on doors telling people how great their lives are because Britain is in the EU?"
Angela Eagle's appearance in Thursday's debate is an opportunity for Labour to redress the deficit and get its "Remain" message across to voters. But it also risks making them even more confused: In the interests of balance, Gisela Stuart, another Labour lawmaker, will be joining Johnson in making the case for "Leave."
Before it's here, it's on the Bloomberg Terminal.
LEARN MORE