Palestinians Kill 4 Israelis at Popular Tel Aviv Shopping Area
by
Shooting near Defense Ministry first major attack in 5 months

Attack was 'terrorist shooting in heart of Tel Aviv': police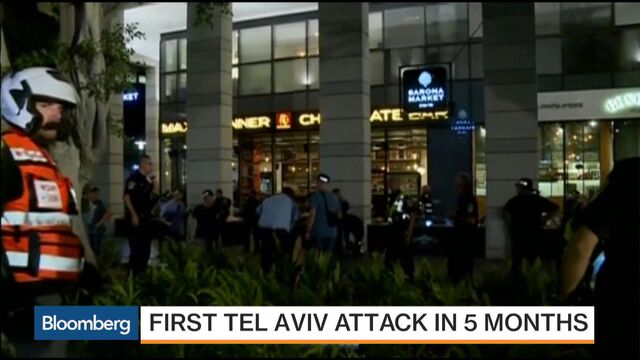 Two well-dressed Palestinian men sitting at a Tel Aviv cafe pulled out guns and sprayed bullets across a fashionable downtown shopping area Wednesday night, killing four Israelis and wounding six people, police said.
Both assailants were arrested, including one who was wounded in an ensuing gunbattle with security forces. Footage of the shooting aired on television showed the men wearing dark business suits and ties, and sitting at a cafe table before rising from their chairs and starting to fire on patrons at point-blank range.
"This has been a difficult night for our city," Mayor Ron Huldai said in a statement after surveying the bloody scene at the Sarona shopping center. Tel Aviv has "for years been a target of terrorism that tries to disrupt our lives. We will continue to live, work and have fun."
It was the single deadliest assault since a wave of stabbings, shootings and hit-and-run attacks began in October, and it came amid what Israeli officials have characterized as a relative lull. Three dozen Israelis and more than 200 Palestinians, most of them assailants, have died in the violence. Palestinians say attackers are lashing out in despair over the Israeli occupation, while Israeli officials blame incitement that's found widespread exposure on social media.
Security Cabinet
An inner cabinet of ministers with security responsibilities is set to meet on Thursday to discuss the attack, Israel Radio reported. The Defense Ministry revoked 83,000 permits for West Bank Palestinians to visit family in Israel during Ramadan, the Muslim fasting month, and Gaza residents will not be allowed to travel to the Al-Aqsa mosque compound in Jerusalem.
The attack occurred across the street from Israel's heavily guarded Kirya complex, which contains the Defense Ministry. The assailants were Palestinian cousins from the Hebron area in the West Bank, police spokeswoman Luba Samri said.
Hamas Praise
While there has been no claim of responsibility, Hamas leader Ismail Haniyeh praised one injured attacker on Twitter as a "hero." A Hamas spokesman, Husam Badran, said the attack was the first "surprise" awaiting Israel during Ramadan and a message that the Palestinians will not be broken, Israel Radio reported.
The shooting was the first major terrorist attack in Tel Aviv since January, when an Israeli Arab shot two people to death at an outdoor cafe on popular Dizengoff Street, then killed a taxi driver who gave him a ride.
Prime Minister Benjamin Netanyahu returned from a trip to Moscow shortly after the attack and was whisked to the Defense Ministry to be briefed by the heads of the police, military and intelligence services, his office said.
Police will step up their presence in Tel Aviv, particularly at schools and entertainment spots, Samri said.
Before it's here, it's on the Bloomberg Terminal.
LEARN MORE