Suzuki Plans CEO Resignation, Pay Cuts on Faulty Mileage Testing
by and
Chairman Osamu Suzuki plans to cede role of CEO as of June 29

Executive Vice President to step down over improper tests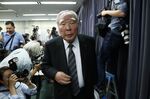 Suzuki Motor Corp. Chairman Osamu Suzuki plans to cede the role of chief executive officer and one of his top deputies will resign after the automaker admitted to using unapproved fuel-economy testing methods in Japan.
The 86-year-old Suzuki will decline the position of CEO and Executive Vice President Osamu Honda, 66, will step down as of the company's June 29 shareholders' meeting, according to a statement. Osamu Suzuki, who remains chairman, will accept a 40 percent pay cut for the six months after July, while his son, President Toshihiro Suzuki, will see a 30 percent monthly reduction during the same span.
Suzuki Motor emerged last month as the second Japanese automaker to use unapproved fuel-economy test methods, after similar disclosures by Mitsubishi Motors Corp. prompted greater scrutiny by the nation's transport ministry. To prevent the recurrence of improper testing, Suzuki said it will promote a whistle-blowing system and consolidate testing facilities.
"Suzuki has a top-down culture and it's been difficult for voices from lower down to go to the management," Toshihiro Suzuki, 57, told reporters during a press conference Wednesday in Tokyo. "Now we are working to improve the corporate culture."
One of the company's four directors will be the next CEO, Osamu Suzuki said. A decision will be made on the candidate when the board first meets after the annual shareholders' meeting, he said.
Waive Bonuses
Directors will fully waive their bonuses for 2015, while senior managing officers and managing officers will see theirs cut in half, according to the company. Other executives and directors also will accept monthly compensation reductions of as much as 25 percent for six months after July.
Suzuki Motor's decision on cuts in executives' compensation follows as a result of the impropriety affecting 14 of its models and 12 vehicles supplied to other manufacturers. The automaker has said it's tested all 26 models properly and the vehicles exceeded the fuel consumption ratings used in marketing catalogs.
Japan's transport ministry ordered domestic automakers to investigate and self-report their fuel economy testing methods after Mitsubishi Motors said it had overstated the mileage ratings of four minicar models by as much as 15 percent and used improper testing on other vehicles dating back to 1991. Nissan Motor Co. has since signed an agreement to buy a 34 percent stake in Mitsubishi Motors for about $2.2 billion.
Before it's here, it's on the Bloomberg Terminal.
LEARN MORE