Sony Gains From M3 Startup Stake Top $1 Billion in Last Year
by and
M3 shares have increased more than 50% in last 12 months

M3 used by doctors to find medical research, drug information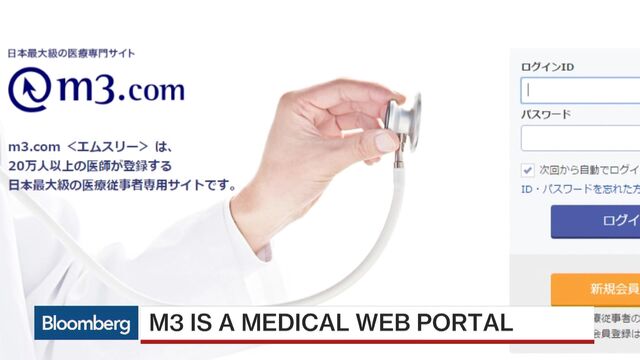 Sony Corp., which is putting more money into internal startups, is seeing big profits from its holding in a little-known health-care company.
The Tokyo-based consumer electronics company has seen the value of its stake in M3 Inc. rise more than 50 percent over the past year to about $4 billion, according to data compiled by Bloomberg. The 39 percent holding has increased by more than $1 billion in the last 12 months.
M3 is a medical web portal founded in 2000 that is used by doctors in Japan, China, the U.S. and other countries to find medical studies, look up drug information and network with each other. The company, also based in Tokyo, said earlier this year that it plans to increase its own investments in health-care startups in Japan and abroad.
M3 acquired assets from Sony in 2003 and went public in 2004. M3 shares have surged this year on rising sales and profits. The stock slipped 1 percent on Thursday after gaining 4.5 percent to an all-time high of 3,480 yen on Wednesday. Sony shares lost 1.4 percent.
A spokeswoman for Sony declined to comment on the investment.
Before it's here, it's on the Bloomberg Terminal.
LEARN MORE