RBNZ Keeps Key Rate at 2.25% as Inflation, Housing Pick Up
by
Governor Wheeler says further easing may still be needed

New Zealand dollar jumps to 12-month high of 71 U.S. cents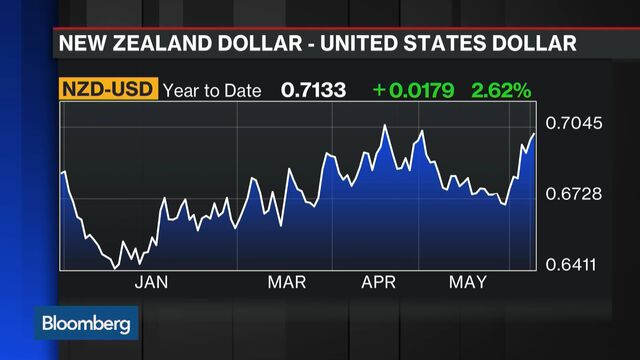 New Zealand's central bank left the benchmark interest rate unchanged for a second straight meeting, saying it expects inflation to accelerate and is worried about a resurgence in house prices. The currency surged to a 12-month high.
"House-price inflation in Auckland and other regions is adding to financial stability concerns," Reserve Bank Governor Graeme Wheeler said in a statement Thursday in Wellington, after holding the official cash rate at 2.25 percent. However, "further policy easing may be required to ensure that future average inflation settles near the middle of the target range," he said.
Wheeler expects inflation to reach the midpoint of his 1-3 percent target band earlier than previously projected, giving him scope to delay further monetary easing so he can gauge the impact of a spreading housing boom on consumer spending and economic growth. The risk is that waiting could further boost the New Zealand dollar and damp import prices, making attainment of his goal even harder.
"Financial stability concerns appear to have influenced the decision not to cut rates," said Jane Turner, senior economist at ASB Bank in Auckland. "We continue to see downside risks to the RBNZ's inflation outlook. As a result, we continue to expect the cash rate to eventually fall to 1.75%, although the RBNZ appears very reluctant to cut."
The currency surged after today's decision, which was expected by 10 of 17 economists surveyed by Bloomberg. Seven expected a quarter-point cut. It jumped to a 12-month high of 71.15 U.S. cents from 70.1 cents immediately before the statement, and bought 70.84 cents at 9:51 a.m. in Wellington.

The exchange rate "is higher than appropriate given New Zealand's low export commodity prices," Wheeler said.
The RBNZ forecast the 90-day bank bill yield, which provides a guide to the direction of the cash rate, will fall from 2.3 percent this quarter to 2.2 percent by the fourth quarter and 2.1 percent by mid-2017. The track implies one further OCR reduction.
"It appears the RBNZ is still looking at cutting the OCR once more," said Dominick Stephens, New Zealand chief economist at Westpac Banking Corp. in Auckland. "We see nothing to dissuade us from our forecast of an August OCR reduction, although this does depend on the data."
Inflation hasn't been above 2 percent since the third quarter of 2011. The RBNZ today forecast it will return to that level by the fourth quarter of 2017, three months earlier than its March prediction.
Long-term inflation expectations are well-anchored and short-term expectations appear to have stabilized, Wheeler said.
"We expect inflation to strengthen reflecting the accommodative stance of monetary policy, increases in fuel and other commodity prices, an expected depreciation in the New Zealand dollar and some increase in capacity pressures," he said.
Tax Increases
Gasoline prices increased 4.7 percent in the three weeks through May 27, according to Automobile Association data. Finance Minister Bill English in his May 26 budget announced tax increases on tobacco which take effect January, and brought forward infrastructure spending that could add to wage and cost pressures in the construction industry.
Record-low borrowing costs are encouraging a housing boom to spread beyond largest city Auckland, where surging immigration and a supply shortage have seen a 75 percent increase in prices since 2007. In the North Island city of Hamilton, house prices soared 26 percent in the year through May.
Nationally, house-price inflation accelerated to 12.4 percent in May, and mortgage borrowing is rising at the fastest pace in seven years.
"Auckland house prices in particular are at very high levels, and additional
housing supply is needed," Wheeler said today.
Stronger Growth
New Zealand's economy is being supported by record immigration, tourism, construction and low borrowing costs, the RBNZ said. Weak dairy prices are a "moderating influence" on growth, it said.
Gross domestic product will expand 3.4 percent in the first quarter of 2017 from a year earlier, the RBNZ forecast. That's faster than the 3 percent predicted in March. Annual growth will be 2.5 percent in the first quarter of 2018, it said.
Fonterra Cooperative Group Ltd., the world's biggest dairy exporter, last month forecast a lower-than-expected milk payout for the 2016-17 season, which will depress farm incomes and hurt spending. The Treasury Department this week forecast about half of the nation's dairy farmers are facing a third season of cash shortfall.
Before it's here, it's on the Bloomberg Terminal.
LEARN MORE