Nike Sticks With Tennis Star Sharapova After Drug Suspension
by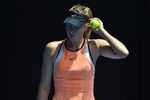 Nike Inc. is sticking with star Maria Sharapova after the International Tennis Federation suspended her for two years for using a performance-enhancing substance.
"The ITF Tribunal has found that Maria did not intentionally break its rules," Nike said in an e-mailed statement. "Maria has always made her position clear, has apologized for her mistake and is now appealing the length of the ban."
Nike had suspended its relationship with Sharapova in March after she admitted to failing a drug test for meldonium. She said at the time she had been taking the drug for health reasons for a decade and hadn't noticed when it was banned by the World Anti-Doping Agency as of Jan. 1. The suspension by Nike has now been lifted, the company said.
"Based on the decision of the ITF and their factual findings, we hope to see Maria back on court and will continue to partner with her," Nike said.
Sharapova's 2010 deal with the sportswear maker was worth $70 million over eight years, a person with knowledge of the contract said at the time. Even though Nike is lifting the suspension, it hasn't announced any immediate plans to use the 29-year-old in its marketing. Her ban from the court would lift in 2018, which is also when her reported eight-year deal with Nike ends.
Lance Armstrong
The company has a history of maintaining relationships with star athletes in situations that prompt other sponsors to sever ties. The most famous cases include standing by basketball player Kobe Bryant and golfer Tiger Woods following much-publicized reports of infidelity. And after years of allegations that he used performance-enhancing drugs, Nike terminated a deal with the seven-time Tour de France winner Lance Armstrong only after his admission to using PEDs.
Sharapova, who is appealing the ITF's suspension, said she was first prescribed the drug by a Russian doctor for nutritional and medical reasons in 2006, according to the Associated Press. Meldonium, which isn't approved for use in the U.S., is used to treat heart conditions. The drug increases blood flow and exercise capacity by carrying more oxygen to the muscles.
Before it's here, it's on the Bloomberg Terminal.
LEARN MORE