Job Openings in U.S. Rose in April to Match Highest in Records
by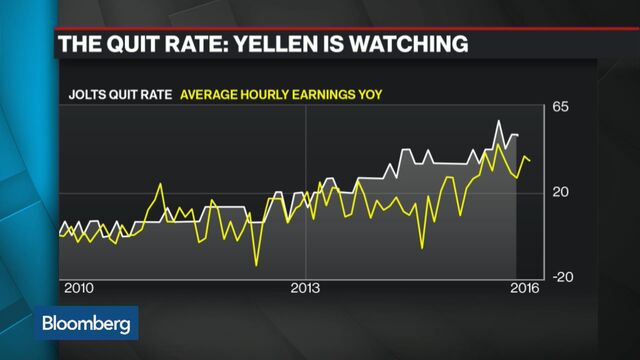 Job openings unexpectedly rose in April to match the highest level since records began in 2000, showing underlying demand in the labor market ahead of a sharp deceleration in payrolls last month, according to the Labor Department.
Key Points
Number of positions waiting to be filled increased by 118,000 to 5.79 million from 5.67 million in March
Hiring eased to 5.09 million from 5.29 million the prior month
Some 2.91 million Americans quit their jobs, down from 2.95 million, which caused the quits rate to decline to 2 percent
Dismissals decreased to 1.65 million from 1.77 million in March

Big Picture
As the rate of hiring cools, job vacancies have continued to trend steadily higher as they have throughout the expansion, signaling employers may be having trouble finding the right candidates. At the same time, the decline in the number of Americans who quit their jobs indicates some lingering caution about the availability of other work. Federal Reserve officials are looking for a rebound in jobs data after May's payrolls report, as they weigh when to further boost the benchmark interest rate.

Economists' Takeaways
"There are a growing number of categories where companies are having trouble finding qualified candidates," Russell Price, a senior economist at Ameriprise Financial Inc. in Detroit, said before the report. "Things are not quite tight enough yet to really cause them to bite the bullet and say we'll train somebody or we'll offer higher wages and salaries to finally fill that role, because the outlook is still a little bit cautious."
"It could be that what we are seeing in the labor market is simply the transition to a more moderate pace of job growth," Richard Moody, chief economist at Regions Financial Corporation in Birmingham, Alabama, said in a research note before the report. "Such transitions, however, are not guaranteed to be smooth."
Other Details
Openings were fairly broad-based including gains in manufacturing, transportation and education and health care
The rate of openings at U.S. manufacturers increased to a record 3.3 percent
The hiring rate declined to 3.5 percent from 3.7 percent in March and has been volatile since the end of 2015
In the 12 months through April, the economy created a net 2.7 million jobs, representing 62.4 million hires and 59.7 million separations
Before it's here, it's on the Bloomberg Terminal.
LEARN MORE