business
Stocks End Winning Streak as Optimism Ebbs; Bonds, Dollar Climb
By and
Event risk unsettles market with Fed, Brexit vote looming

Asian futures signal losses with Hong Kong back from holiday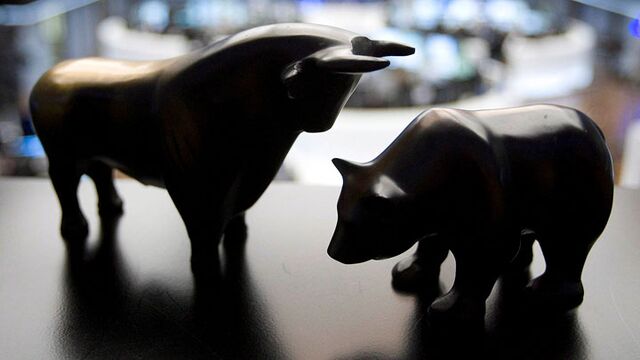 A weeklong rally in global stocks ended as investors reassessed the outlook for global economic growth ahead of a series of events that could set the tone in financial markets for the next six months.
The MSCI All-Country World Index dropped for the first time in six days as stocks from Asia to Europe declined. While the S&P 500 Index also fell, snapping a three-day climb, the benchmark pared losses in the second half of the session to remain near an all-time high. Despite declines in oil and metals, the Bloomberg Commodity Index ended Thursday little changed, following its longest run of gains since March. Bonds rose, with U.K. gilt yields declining to a record low, while emerging-market assets retreated.

Recent optimism that a combination of loose monetary policy and moderate global growth would bolster risk assets seems to have peaked, with the looming Federal Reserve meeting, followed by the vote on Britain's membership of the European Union and U.S. political conventions rife with the potential to roil markets. With American stocks trading around multi month highs, investors are also speculating there is little reason to push prices higher. Billionaire investor George Soros is said to have recently overseen a series of large, bearish investments, which is also contributing to the tempered mood.
"With the market being priced where it's at, there's not a lot of room for air," said Jim Davis, regional investment manager at the Private Client Reserve of US Bank, which oversees $128 billion. "I would not be surprised to see it back off a little more in the next week. The market has to navigate some choppy waters between now and mid-July, with the Fed next week and the Brexit vote the following."
Stocks
The All-Country gauge lost 0.6 percent as of 4:15 p.m. in New York, after climbing Wednesday to its highest level since Dec. 1. The S&P 500 ended the session down 0.2 percent, clawing back declines of as much as 0.5 percent as gains in utilities and telephone companies countered losses among banks and mining shares.
The rally that took commodities into a bull market amid weakness in the dollar had pushed the S&P 500 within 0.6 percent of its record from May 2015, overcoming pessimism sparked by the weakest jobs growth in the U.S. since 2010. Since Friday's jobs report, investors have seen little data to make further assessments on the state of the global economy. Data Thursday indicated U.S. initial jobless claims unexpectedly fell last week to 264,000.
Support this week has come from Fed Chair Janet Yellen's remarks that the U.S. economy is making progress and indications that policy makers won't rush to raise interest rates. Traders have cut back their bets for a Fed rate increase, now pricing in no chance of a boost in June. December is the first month with at least even odds of a rate increase.
The MSCI Emerging Markets Index dropped 0.6 percent, with Russia's Micex gauge down 0.9 percent and India's S&P BSE Sensex index losing 1 percent, dropping from its highest closing level since October. The Stoxx Europe 600 Index dropped 1 percent, while MSCI's Asia Pacific Index ended Thursday down 0.6 percent amid losses in Japan.
Futures on Asian indexes signaled a further retreat in equities, with markets in Hong Kong to return from holiday, while those in mainland China and Taiwan remain shut. Nikkei 225 Stock Average futures declined at least 0.3 percent in Osaka and Chicago, while contracts on stock measures in Australia and South Korea were down at least 0.2 percent in most recent trading.
Commodities
Bloomberg's commodity index slipped 0.1 percent, after earlier falling as much as 0.8 percent. The measure had climbed Wednesday to its highest level since October as declines in the dollar burnished the appeal of raw materials priced in U.S. currency.
West Texas Intermediate crude fell 1.3 percent to $50.56 a barrel, snapping a three-day climb, while Brent oil for August settlement dropped 1.1 percent to $51.95 a barrel. A rebound in the dollar Thursday overshadowed positive sentiment sparked by a drop in U.S. stockpiles.
The London Metal Exchange LMEX Metals Index slipped 1.1 percent as copper to nickel and aluminum dropped at least 0.3 percent.
Gold for immediate delivery added 0.6 percent to $1,269.80 an ounce as silver extended its surge, gaining 1.4 percent to $17.2775 per ounce, an almost one-month high.
Bonds
Treasuries rose, pushing 10-year yields to the lowest level since February's global market rout, as renewed concern over lackluster economic expansion and the U.K.'s potential departure from the EU fueled demand for the safest government securities. The 10-year yield fell two basis points, or 0.02 percentage point, to 1.69 percent.
Thirty-year yields also fell, as the Treasury sold $12 billion of the securities at the lowest yield since January 2015. It was also the second-lowest rate on record for that maturity, in the last of three note and bond auctions this week. Demand for U.S. debt has been driven in part by investors seeking yield in a world where more than $10 trillion of debt has negative interest rates. 
U.K. governments bonds extended gains, with the 10-year yield touching 1.22 percent, the lowest level since Bloomberg started tracking the data in 1989. Bonds of the euro-area's higher-rated nations climbed, with the Germany's 10-year bond yield matching the 0.033 percent record low it first touched on Wednesday.
Currencies
The Bloomberg Dollar Spot Index, which tracks the greenback against 10 major peers, gained 0.4 percent, snapping a two-day drop. The U.S currency strengthened 0.7 percent to $1.1316 per euro and added 0.1 percent to 107.10 yen.
As the Fed determines when to tighten monetary policy, HSBC Holdings Plc said buying the greenback before an eventual interest-rate increase may be a "self-defeating strategy." Bets on the Fed raising borrowing costs have been pushed out since last week's weak American payrolls data, with odds not exceeding 50 percent until December.
The yen gained versus the euro, touching its strongest level in more than three years amid mounting doubts that the Fed will tighten policy in the coming months. The reduced odds helped boost demand for the relative safety of the Japanese currency.
New Zealand's dollar surged to its highest level in almost a year after the central bank refrained from cutting rates at a review. The prospect borrowing costs will remain where they are in New Zealand, coupled with the outlook for a delay in tightening in the U.S. burnished the smaller nation's interest-rate premium. The kiwi soared as much as 2 percent to 71.48 U.S. cents.
— With assistance by Neil Denslow, Emma O'Brien, and Lananh Nguyen
Before it's here, it's on the Bloomberg Terminal.
LEARN MORE