Goldman Says There's an Elevated Risk of a Big Market Selloff
And it'll be tough to find a place to hide.
by and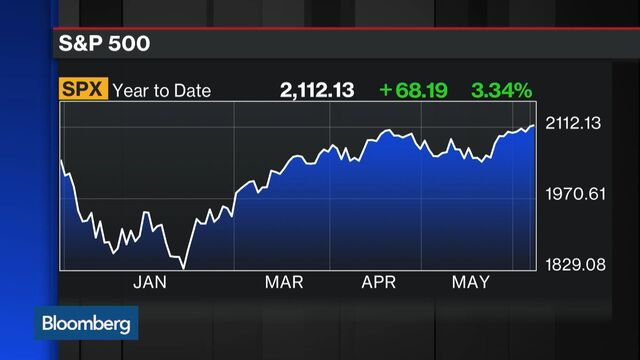 "With the S&P 500 close to all-time highs, stretched valuations and a lack of growth, drawdown risk appears elevated."
So says Goldman Sachs Group Inc. Managing Director Christian Mueller-Glissmann, who highlights that selloffs in excess of 20 percent for major bourses occur relatively frequently and recently have been brought about by concerns of a global nature. With a possible Brexit, the U.S. presidential elections, and a Fed that appears committed to continuing to lift policy rates, this level of event risk is certainly on the table.
He adds that the calm implied by the low levels of the Chicago Board Options Exchange Volatility Index belies the fragility of markets, which have become more susceptible to abrupt declines. 

The especially bad news for investors is that it's harder to hedge against such a drawdown. Increased correlations between regional equity markets make it tougher to hide out in foreign stocks, defensive equities and low-volume ETFs have been bid up, and bond yields linger at ultra-low levels.
With bond yields not discounting enough inflation, in the Mueller-Glissmann's opinion, a traditional 60/40 asset allocation between equities and bonds will fare particularly poorly in the event of a collapse in stocks as the negative relationship between stocks and bonds wanes.
"During the S&P 500 drawdowns in August 2015 and at the beginning of 2016, bonds provided a less effective hedge with monthly returns of a standard 60/40 portfolio dipping to -5 percent, much larger drawdowns than during the Euro-area crisis and the global 'growth scare' in October 2014," he writes.
Mueller-Glissman believes systematic call overwriting, in which an investor receives a premium for selling upside exposure on one of their holdings, is a better way to hedge equity risk than buying VIX futures or puts.
The strategist doesn't believe any brisk slide in equities is limited, viewing the risk of a U.S. recession as low and rates as supportive of asset valuations. However, in the event that such a selloff comes to pass, a rebound could prove very elusive, he warns.
"With equities at the upper end of their recent range, we believe equities offer poor asymmetry with little return potential and potential for more frequent and larger drawdowns," writes Mueller-Glissmann. "And while 'buying the dip' has worked since 2014 , investors are increasingly concerned about the recovery catalyst in the next drawdown as central bank capacity is increasingly questioned and global growth and inflation remain stubbornly low."
In May, Goldman analysts led by Mueller-Glissmann downgraded global equities to neutral, advising investors to turn to cash and corporate debt.
Before it's here, it's on the Bloomberg Terminal.
LEARN MORE