China's New Dollar Bonds Give HSBC a Sense of Deja Vu
A familiar financing channel is forecast to double in size over the next 12 months.
by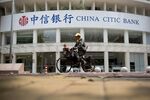 "China's ITICs flourished in the 1980s and 1990s as a vehicle for central agencies and local and provincial governments to channel foreign investment into the mainland while skirting strict controls on capital flows," the Wall Street Journal wrote some 16 years ago.
Few now seem to remember the more than 200 or so international trust and investment corporations — ITICs — created in the final two decades of the last century. There may be a reason for this case of capital markets amnesia. Few ITICs remain standing today, after the Chinese government backed away from the sector and the vast majority defaulted on their debt in the late 1990s and early 2000s. 

But memories might be jogged soon enough, according to analysts at HSBC Holdings Plc.

They argue that the recent surge in dollar-denominated debt from China's local government financing vehicles (LGFVs) bears more than a little resemblance to the deluge of ITIC bonds once sold on the market.

"The U.S. dollar bond issuance by LGFVs brings back memories of the investment trust and investment companies in the late 1990s," HSBC's Keith Chan and Desmond Kuang write. "Before the 1997-1998 Asian financial crisis, the ITICs raised offshore bank loans and bonds to support their overseas expansion initiatives, a lot of which was tied to the Hong Kong property market, which plummeted by as much as 70 percent between 1997 and 2003."
Soured ITIC bonds soon came to account for 7 percent of U.S. dollar-denominated corporate defaults in Asia and 19 percent of China corporate defaults from 1998 onwards, according to HSBC. 

Investors still eager to grab a slice of the growing dollar-denominated LGFV debt asset class will need to weigh a couple things very carefully. They include the likelihood of continued state-support and the robustness of LGFVs' standalone businesses; the prospect for currency mismatches; plus withdrawals or downgrades of credit ratings. These risks differ widely across debt that has already been issued.
Change-of-control clauses meant to protect investors from a drop in state ownership have triggers ranging from below 50 percent state ownership to anything below 100 percent. Meanwhile, the vast majority of LGFVs draw little in foreign revenue, which could leave them scrambling to pay back investors abroad in the event of financial stress. While foreign currency debt remains a small proportion of LGFVs' total debt, at 6.9 percent, that average does conceal a range of as low as 1.7 percent to as high as 25.7 percent.
Despite such risks, HSBC is forecasting a doubling to $20 billion of dollar-denominated LGVF bonds outstanding over the next 12 months, following what has already been a stunning surge in sales. 

The reason for the rise is clear, according to HSBC. The history of local government bond defaults is short — not too dissimilar, perhaps, from investors' collective memory span.

"This surge in LGFV issuance is easy to explain," write the analysts. "For issuers, U.S. dollar bonds broaden their fund raising options; for investors, there has not been a single LGFV default in the onshore bond space in the latest round of government-induced stress testing, and these types of bonds appear to be back in favor with the government."
Before it's here, it's on the Bloomberg Terminal.
LEARN MORE