Central Banks Fear Trouble Ahead as Brexit Stress Goes Global
By and
India's Rajan warns that U.K. vote could spark market turmoil

Policy makers are holding off decisions until vote passes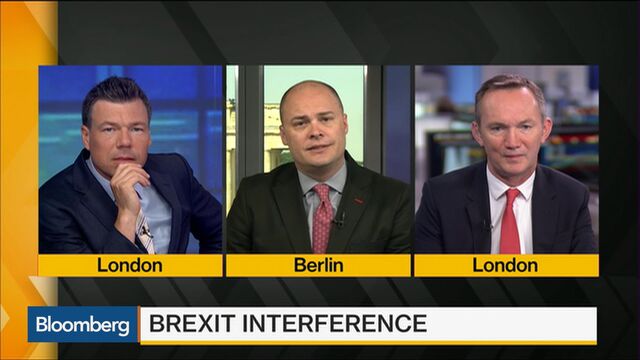 From Washington to Mumbai, central bankers are finding their policy decisions gummed up by a potential British exit from the European union.
Federal Reserve Chair Janet Yellen became the highest-profile monetary policy maker to speak out this week, when she warned a so-called Brexit would have "significant economic repercussions," a concern echoed by counterparts including Reserve Bank of India Governor Raghuram Rajan.
With Bank of England Governor Mark Carney already on the alert for a U.K. recession should voters choose to leave the bloc, the worry internationally is that a rupture in Europe would roil financial markets and destabilize trade, rocking a global economy already struggling for traction.
The risk alone could be prompting major central banks to delay policy changes until after the June 23 referendum -- either to avoid tightening prematurely, in the case of the Fed, or to keep stimulus available should it be needed later, as with the European Central Bank. The Bank of Japan is seen by most economists holding off on a move next week, then expanding its easing in July.
If the U.K. does jump, it could mean the world's already-easy monetary policy is left looser for longer.
Justified Worry
"Central bankers prefer to err on the cautious side," said Brunello Rosa, an economist at Roubini Global Economics LLC in London. "If 'leave' wins, there would be quite a substantial period of volatility in financial markets. So they're right to be worried."
The key concern is a shock to markets. The pound and the euro would likely slide and uncertainty for banks, companies and investors would spike. That could then damage global demand at a time when the International Monetary Fund is already predicting growth of just 3.2 percent this year and continued weak inflation.

An analysis by Roubini showed Ireland, the Netherlands and Switzerland among the most exposed to the U.K. economy, with Hong Kong and South Africa having the strongest financial links to it outside of Europe. Central bankers in trade-dependent South Korea and New Zealand have the opportunity of registering their concerns after policy decisions Thursday.
Turmoil A-plenty
"If in fact the people in Britain vote for exiting, there will be a lot of turmoil in markets," Rajan said on Tuesday after holding policy steady.
Australia's central bank said the same day that it is worried about "particular" event risk after a period of relative calm in markets.
European officials have also sounded the alert, given the potential of a Brexit sapping British demand for their goods, as well as potentially renewing doubts over whether other nations could spin out of the EU, and the euro.
European Central Bank President Mario Draghi says that he is "ready for any outcome," while adding that his institution thinks "the U.K. should remain in the European Union."
Swiss National Bank officials also have qualms, concerned a Brexit would force up the franc, which they still consider to be overvalued despite their use of negative interest rates. Denmark's central bank has already dumped the equivalent of $3.5 billion in kroner in May to weaken its currency as the vote nears.
U.S. Rates
As for the Fed, Yellen was the latest official to warn that a vote to leave could have unpredictable consequences that could spill back to the U.S., giving policy makers another reason to delay raising interest rates when they meet next week alongside weakest monthly job creation in almost six years in May.
"If the vote goes that way there could be effects in the foreign exchange markets that would make U.S. exports perhaps a little less price-competitive," Atlanta Fed President Dennis Lockhart told Bloomberg Television on Monday. "So there could be spillovers back to the U.S. economy."
Central bankers have been increasingly forced to look beyond their borders since the global recession of 2009 proved most economies aren't immune to events elsewhere. Brexit could join China's slowdown and Europe's Greek-led debt crisis as barriers to a more-robust economic recovery.
Not all are stressed. Fed Bank of St. Louis President James Bullard said in May that a Brexit would not be the global financial event some perceive it to be. ECB Vice President Vitor Constancio said the same month that it could end up bringing more cohesion to the remaining EU countries.
Still, there are jitters as far afield as Africa. Patrick Njoroge, Kenya's central bank governor, said in a May interview that Brexit posed a much bigger risk to his economy than even a slowdown in China, the world's second biggest economy.
"Brexit, in our view is the most serious threat that we could face," he said. "It would affect everybody in the world. There won't be any safe haven."