Brexit Could Be So Bad It's Good for the Pound - Eventually
Over a longer horizon the currency may strengthen as the spotlight shifts to the euro
by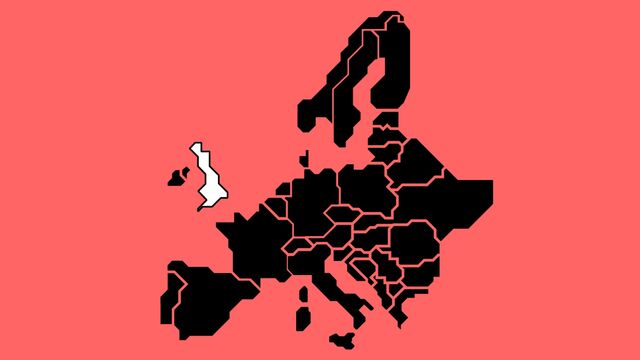 Brexit: It's "the most significant event risk of the year," and yet it could ultimately make the pound strengthen, according to Barclays Plc.

This seemingly perverse forecast doesn't mean the firm's strategists are blind to the uncertainties that have helped roil U.K. markets, pushing implied volatility on the pound past seven-year highs.

It's because, in the event of a vote to leave the EU on June 23, they predict the risks to the country will very soon be supplanted by risks to the rest of the continent — risks which, unlike the self-inflicted Brexit vote, have yet to be fully ingested by the markets.
With elections scheduled in France, Germany, Spain, and the Netherlands within the year, the incitement a 'leave' vote would offer some of Europe's richest economies to reconsider their relationship with the bloc means that the pound could soon end up rebounding relative to the euro, as disaffection with the union spreads.
"Although arguably depreciating less than the GBP in the aftermath of the vote, a U.K. exit will likely have more of a political and institutional fallout for the rest of Europe than for the U.K., in our view," write the analysts, led by Marvin Barth. In the aftermath of the vote, as the focus of attention turns to the threat to the monetary union "the U.K. begins to look like a 'safe haven' within Europe," they say.  

Barclays predicts the eurozone currency will strengthen against the pound only for the quarter in which the referendum falls. After that the pound will outperform, as the U.K.'s precedent plays out across the continent in ways that are hard to predict.

The report comes just after the Pew Research Center published a poll showing that hostility toward the European Union is growing across its member states, with fewer than half the population in France and Spain holding a favorable view, as in the U.K. 


"The UK's vote is about the future of Europe," Barclays concludes.
Before it's here, it's on the Bloomberg Terminal.
LEARN MORE