Biggest Bank Quitting Japan Bond Club Shows BOJ Crushing Market
by and
Bond market functionality has deteriorated, BOJ survey shows

MUFG unit says it may quit role of primary dealer for JGBs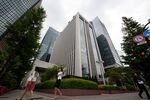 Bank of Tokyo-Mitsubishi UFJ Ltd.'s move to consider quitting as one of 22 primary dealers is the latest sign of stress in a debt market that's struggling to cope with the Bank of Japan's unprecedented monetary stimulus.
The bond market's functioning has either decreased or failed to improve, according to 92 percent of respondents to a central bank survey last month. BOJ Deputy Governor Hiroshi Nakaso said Thursday that the world's second-largest debt market has been "significantly affected" by monetary easing. The central bank's crusade to revive the economy since April 2013 has sent volatility soaring while failing to spark inflation, with yields tumbling below zero on maturities up to a decade.
The main lending unit of Japan's biggest bank is considering the withdrawal and nothing has been decided, spokesman Kazunobu Takahara said Wednesday. Mitsubishi UFJ Financial Group Inc. President Nobuyuki Hirano has criticized the central bank's negative interest-rate policy, saying it's crimping interest income and fueling anxiety among companies and households, while Japan's main opposition party member Shiori Yamao said the BOJ should ditch it.
'Landmark Move'
"It's a landmark move and shocking to see a bank that has played a central role in absorbing debt give up the primary dealership," said Shuichi Ohsaki, the chief rates strategist at Bank of America Merrill Lynch in Tokyo, one of the primary dealers in Japan. "It's not good news for the JGB market in terms of liquidity and the absence of a big player could trigger a sudden rise in yields."
While BOJ Governor Haruhiko Kuroda has repeatedly said he doesn't see any limits for the central bank's debt purchases, the BOJ has to buy about 120 trillion yen ($1.1 trillion) of bonds this year -- more than 90 percent of securities newly issued in the market -- as some notes mature. The bank held 32 percent of government bonds at the end of December, according to its own data.
For a QuickTake explainer on negative interest rates, click here.
The BOJ's stimulus has helped to send yields on almost 80 percent of Japanese sovereign notes below zero, while a lack of liquidity has led to volatility in the securities over 60 days to rise as high as to 5.84 percent in April, a level unseen in a decade and a half. The benchmark 10-year government bond yield fell one basis point to minus 0.125 percent at 3:20 p.m. Thursday in Tokyo, below the BOJ's minus 0.1 percent policy rate on deposits.
Major Buyer
"Given that the BOJ is the only major buyer in the JGB market, the impact of the bank's possible withdrawal was limited," said Hidenori Suezawa, a monetary and fiscal analyst at SMBC Nikko Securities Inc. "But that really underscores how much the market has changed."
The Finance Ministry introduced the primary dealer system in 2004 to improve liquidity and stability. The 22 participants are entitled to exchange opinions with ministry officials in return for an obligation to bid for and purchase a certain amount of bonds at each auction. The U.S. and European nations operate similar systems.
"The dealers have to underwrite the government debt," said Hideo Shimomura, the chief fund investor at Mitsubishi UFJ Kokusai Asset Management Co. in Tokyo, which oversees about $112 billion. "If you hold bonds in inventory, there's no income from that because they have negative yields. There could be a potential loss. Dealers who aren't active in the primary market may give up this business."
While some indicators suggest there has been a drop in the JGB market's liquidity since the start of the year, such signals can fluctuate significantly, BOJ Deputy Governor Nakaso said in a speech in Akita, northern Japan. He acknowledged that some people are concerned negative rates may hurt banks' profits.
Auction Participation
Bank of Tokyo-Mitsubishi UFJ would continue to participate in auctions and purchase JGBs as needed, people with knowledge of the matter said, asking not to be identified as the deliberations are confidential. MUFG also has two joint ventures with Morgan Stanley among the primary dealers.
Sumitomo Mitsui Banking Corp., a unit of Japan's second-biggest lender by market value, isn't considering withdrawing, spokesman Takafumi Sasaki said by phone. Mizuho Bank Ltd., part of the third-largest lender, hasn't decided anything, spokeswoman Masako Shiono said.
Japanese banks cut government bonds at the fastest pace in almost three years in April. Their holdings have tumbled about 43 percent since Kuroda began his bond-buying program, reaching 94.7 trillion yen, the least since December 2008.
"This is a consequence of the BOJ's reflationary policy killing the market mechanism, rather than controlling supply and demand balances," said Hideo Kumano, chief economist at Dai-Ichi Life Research Institute in Tokyo. "The fact that such a megabank as Bank of Tokyo-Mitsubishi UFJ would do this means normalization is miles away."
Before it's here, it's on the Bloomberg Terminal.
LEARN MORE