Alberta Fire Threat Returns as Two Oil Producers Shut Sites
By
Cenovus, Canadian Natural halt sites as new blaze burns

Production shut as Suncor, ConocoPhillips restore output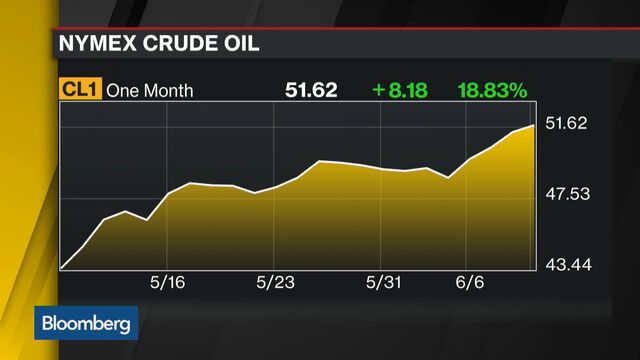 A new wildfire has prompted Canadian oil producers Cenovus Energy Inc. and Canadian Natural Resources Ltd. to shut production just as output was being restored in other parts of Alberta after last month's fires that cut about 40 percent of the region's production.
Cenovus evacuated workers and shut its Pelican Lake operations, which produced less than 23,000 barrels of oil a day in the first quarter, and Canadian Natural brought down about 800 barrels a day of output from its nearby site, the companies said in e-mails Wednesday.
This new fire erupted about 30 kilometers (19 miles) northeast of Wabasca and covers an area of less than a square kilometer, Travis Fairweather, an Alberta Forestry spokesman, said by phone. The blaze was about 1 kilometer from the Cenovus facility with winds blowing it to the northeast, away from the site.
The production shutdowns near Pelican Lake are a reminder that this year's wildfire season in Alberta isn't over as companies including ConocoPhillips and Suncor Energy Inc. ramp up operations after a blaze last month. That fire forced the evacuation of 80,000 people and shut in as much as 1.2 million barrels a day of oil-sands production near the city of Fort McMurray. Last month's fire helped push oil futures above $50 a barrel as it temporarily alleviated a global supply glut that's lasted for almost two years.
Fire Season
"This is the early part of the fire season," John Auers, executive vice president at Turner Mason & Co. in Dallas, said by phone. "The last two winters have been pretty dry so these fires started earlier than normal."
Cenovus is assessing the potential restart of Pelican Lake operations after the fire was brought under control and the threat was downgraded, the company said in an e-mail Wednesday afternoon, adding it planned to return 44 essential staff to the site by Wednesday evening.
A total of 28 fires were burning in Alberta Wednesday with five categorized as "out of control," Fairweather said. Twenty-two of those fires broke out Tuesday, he said. The Fort McMurray blaze that started early last month and burned down entire neighborhoods of the city was about 5,820 square kilometers and burning in forests to the northeast of the town. That blaze is no longer threatening any population centers or industrial sites, he said.
Heavy Western Canadian Select crude's discount to West Texas Intermediate grew 15 cents to $12.10 a barrel, the widest discount since May 12, according to Bloomberg data.