'Warcraft' Has Largest Opening Day at China's Box Office in 2016
by
Film based on video game scores as holiday weekend starts

Movie backed by Wang's Legendary, Tencent, Comcast's Universal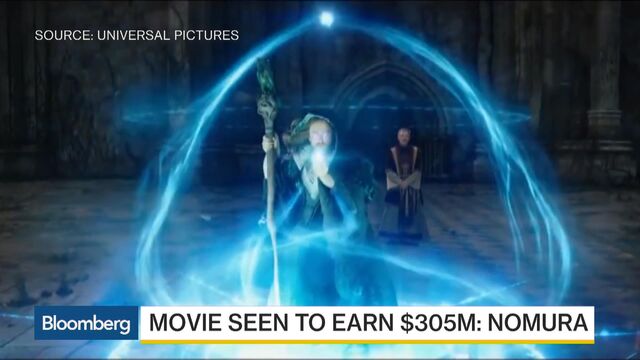 "Warcraft," the Chinese-backed Hollywood film based on the popular online game, raked in the highest opening day at China's box office this year, shaping up into a windfall for billionaire Wang Jianlin's Legendary Entertainment.
The movie, co-produced by Legendary and backed by gaming giant Tencent Holdings Ltd., generated 300.4 million yuan ($45.8 million) in ticket sales across Chinese theaters on Wednesday, according to industry-data provider EntGroup Inc. That beat the 272 million yuan that Stephen Chow's "The Mermaid" brought in when it debuted earlier this year, according to EntGroup.
The film, based on Activision Blizzard Inc.'s World of Warcraft game, has much going for it to become a blockbuster in the world's second-largest movie market. Wang operates the country's biggest theater chain and the game franchise has a devoted fan base in China, which begins a long weekend on Thursday.
China accounts for at least 10 percent of the 100 million fans of the World of Warcraft game, according to GF Securities.
Nomura Holdings Inc. expects "Warcraft," directed by David Bowie's son Duncan Jones, to generate as much as 2 billion yuan in ticket sales in China, which is on pace to overtake the U.S. as the world's largest movie market as early as 2017. That would make the film China's second-highest earner this year.
"Warcraft" opens in the U.S. on Friday and is expected to have a tepid $22 million in sales there its first weekend, eventually generating $45 million total, according to BoxOfficePro.com. Reviews have been poor, with 18 percent favorable, according to RottenTomatoes.com. The film is also backed by Comcast Corp.'s Universal studio, which is distributing the film in North America.
Before it's here, it's on the Bloomberg Terminal.
LEARN MORE