Yuan Posts Biggest Two-Day Drop Versus Basket Since February
by
PBOC weakens daily reference rate versus dollar by 0.2 percent

Fixing shows preference for some depreciation, analyst says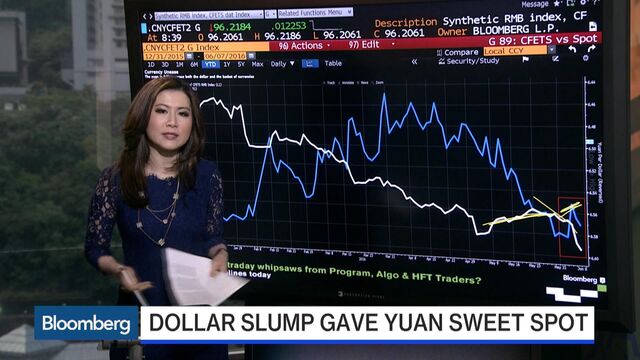 The yuan posted its biggest two-day drop versus peers since February, spurring speculation the authorities are weakening the currency to counter a slowing economy.
The Chinese currency has fallen 0.8 percent against a trade-weighted basket this week to the lowest level since October 2014. It dropped 0.1 percent versus the dollar to 6.5729 as of 4:54 p.m. The People's Bank of China weakened its reference rate against the dollar by the most in a week on Tuesday.
Data due Wednesday will probably show exports declined 4 percent in May, the most in three months, according to Bloomberg survey of analysts. Goldman Sachs Group Inc. said last week the yuan's weakness may trigger capital outflows and fuel speculation of a one-off devaluation. China's foreign-exchange reserves fell by $28 billion in May to $3.19 trillion, PBOC figures showed Tuesday, compared with a $3.2 trillion forecast in another survey.
"What's clear from the fixing itself is there is a preference for some depreciation of the yuan," said Sim Moh Siong, a foreign-exchange strategist at Bank of Singapore Ltd. "There is a preference there but there's a limit to how far the yuan can fall without giving rise to concerns about competitive devaluation."
The yuan climbed 0.5 percent on Friday after the weakest U.S. jobs growth since 2010 spurred declines in the greenback. Federal Reserve Chair Janet Yellen indicated on Monday that U.S. interest-rate increases will only come gradually.

The greenback's slump in the three months through April had given the PBOC the best of both worlds: a yuan that rose against the dollar but fell versus the basket, a combination that stabilized outflows while aiding exporters. This week, the yuan has fallen against both the dollar and the basket.
"The fixings have been biased to the weak side," said Gao Qi, a Hong Kong-based foreign-exchange strategist at Scotiabank. "The PBOC wants to appropriately control the yuan's strengthening when the U.S. dollar is weaker."
China's exchange rate has been stable and transparent, while central bank officials can improve communication to make monetary policy more effective, PBOC Deputy Governor Yi Gang said on Tuesday. Chinese officials need to improve communication when it comes to the yuan, U.S. Treasury Secretary Jacob J. Lew said on Sunday.
The offshore currency fell 0.1 percent to 6.5746. Financial markets in China will be closed for holidays on Thursday and Friday.
"In the medium-term, there isn't a lot of confidence in the yuan because Chinese growth is slowing," said Ken Cheung, a strategist at Mizuho Bank Ltd. in Hong Kong. "The market tends to sell the yuan on rally."
Before it's here, it's on the Bloomberg Terminal.
LEARN MORE