Why the Saudi Expat Tax Proposal Is Unlikely to Be Imposed Soon
by , , and
Economists say tax may make labor market less attractive

Finance Minister says no decision has been taken yet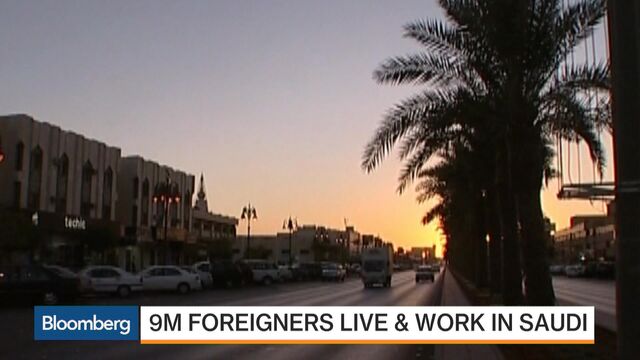 Saudi Arabia will discuss a plan to impose income tax on millions of foreign workers living in the kingdom, Finance Minister Ibrahim al-Assaf said Tuesday. The measure would help the country diversify its sources of income after the drop in crude prices. Saudi citizens will not be taxed, al-Assaf said.
The proposal, which hasn't been approved yet, is one of many measures included in the National Transformation Plan. But it's unlikely to be implemented anytime soon, according to economists, who say it could make the Saudi labor market less competitive. Here is the immediate reaction of four analysts.
Monica Malik, chief economist, Abu Dhabi Commercial Bank:
* The introduction of the tax "will likely not be in the near term," she said. If income taxes are introduced in the kingdom and not in other Gulf Cooperation Council countries, it will "reduce the competitiveness of Saudi Arabia to attract labor," she said. On the other hand, the proposed tax "may also support Saudi-ization plans and increasing job opportunities for nationals."
Said A. Al-Shaikh, chief economist at National Commercial Bank:
* "The success of any such tax would really depend on the rate imposed and the segments of foreign workers that it would be levied on," he said.
* "A tax on foreigners may end up being borne by their employers who will find it more difficult to attract staff and fill posts whether it's for low or high wage jobs," he said. The tax "could also result in higher costs for services on citizens as employers pass the cost of the tax on to the consumers."
* Accordingly, the proposal needs "an in-depth study to determine the financial impact it could have on Saudi households."
Mohamed Abu Basha, Cairo-based economist at regional investment bank EFG-Hermes:
* "Implementing taxes isn't necessarily urgent when taking into consideration other planned measures to raise non-oil revenues," he said. "The other measures they plan to take, including the subsidy and wage cuts, are enough to have a significant impact on the budget already."
Mohammed Alsuwayed, the Riyadh-based head of capital and money markets at Adeem Capital:
* "I don't believe it's wise to introduce such a thing at a time when the kingdom is trying hard to attract direct foreign investments and not having income taxes was one of the most attractive prospects here," he said.
Before it's here, it's on the Bloomberg Terminal.
LEARN MORE