Valeant Slumps Again as New CEO Fails to Reassure Investors
by
Turnaround is a 'multi-year process,' CEO Joseph Papa says

Valeant cut 2016 forecast after key drug sales dropped in q1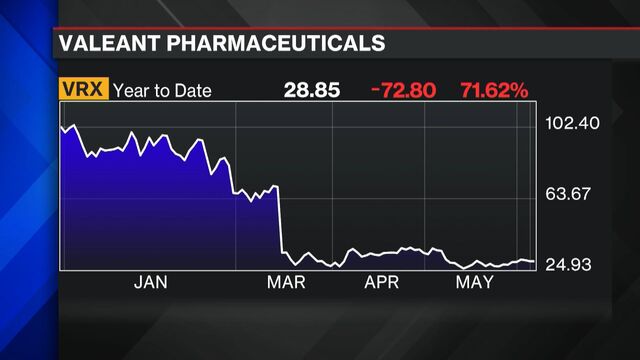 Valeant Pharmaceuticals International Inc.'s real problem isn't its critics or drama with its leadership, but the company's underlying business.
The shares plummeted Tuesday as new Chief Executive Officer Joseph Papa cut 2016 earnings and sales forecasts, marking a major reset point as the once high-flying company tries to get back on its feet.  Papa's plan to stabilize the company and ensure its ability to meet debt payments, outlined on a conference call, did little to reassure investors.
First-quarter earnings -- the last set of full results under former Chief Executive Officer Michael Pearson -- gave investors the first detailed picture of the drugmaker's struggles to sell many of its products during the recent months of chaos. From steep sales declines in the key categories dermatology and prescription ophthalmology to disappointing results for gastrointestinal drug Xifaxan, it's clear that Valeant's problems go beyond the two heart drugs that were the center of congressional probes this year after their prices were jacked up.
"The reality is that if you look across a number of segments, there are all kinds of question marks," said David Amsellem, an analyst with Piper Jaffray who rates Valeant stock underweight.
The shares dropped 16 percent to $24.20 at 10:20 a.m. in New York, after declining as much as 22 percent. It's the biggest slump since the biggest one-day slump in Valeant's history on March 15, the day when previous management reported earnings and mishandled a conference call that left investors confused.
Valeant's most actively traded bond, $3.25 billion of 6.125 percent notes that mature in 2025, lost 0.875 cent to trade at 81.875 cents on the dollar and yield 9.156 percent at 8:55 a.m. in New York, according to TRACE, the bond-price reporting system of the Financial Industry Regulatory Authority.
The turnaround will be a "multi-year process," Papa said on the call with analysts Tuesday. "We have a stabilization plan and we will execute on this plan. We've hit a few speed bumps." He said he expects it to take three to six months to stabilize Valeant, before a fuller transformation of the business over the long term. The company will also divest some non-core assets, he said.
For analysis from Bloomberg Gadfly on Valeant, click here.

Papa, who joined from over-the-counter and generic drugmaker Perrigo Co. in May, took over at Valeant after months of turmoil that as of Monday's close had wiped out about 90 percent of the stock's value amid U.S. federal investigations, an accounting scandal and scrutiny over drug price increases. 
Earnings this year will be $6.60 to $7 a share, excluding some items, the company said in a statement Tuesday. In March, under former CEO Pearson, Valeant anticipated $8.50 to $9.50. Analysts were predicting earnings of $8.49, the average of estimates compiled by Bloomberg. In the first quarter, earnings of $1.27 missed analysts' predictions by 10 cents.
"The first quarter's results reflect, in part, the impact of significant disruption this organization has faced over the past nine months," Papa said in the statement.
The company has been delaying financial results because of earnings restatements, which led to default notices from some bondholders. The drugmaker reiterated that it expects to file its first-quarter statement with the U.S. Securities and Exchange Commission this week, ahead of a deadline. Linda LaGorga, Valeant's treasurer, said on the call with analysts that the company will be using excess cash to pay down debt.
'Some Challenges'
"While there are some challenges to work through in certain business operations in 2016, such as our U.S. dermatology unit, the majority of our businesses are performing according to expectations," Papa said Tuesday.
He called the challenges the company is facing "speed bumps," particularly in reference to the company's dermatology products distribution agreement with Walgreens Boots Alliance Inc., a deal that was set up by his predecessor. Some of those "speed bumps" have been lower average selling prices on some drugs, Papa said, which he is working to fix.
"In some cases the average selling price has been negative," Papa said on the call. In those cases "as prescriptions are filled, we are taping dollar bills" to the drug as it goes out the door.
First-quarter earnings showed how challenging Papa's task will be. Two of Valeant's key categories, dermatology and prescription ophthalmology, slumped by 43 percent and 30 percent, respectively. In dermatology in particular, the company has faced pushback from health insurers and pharmacy benefit managers after increasing its prices.
| | | | |
| --- | --- | --- | --- |
| Top Five Units | 1Q 2016 | 1Q 2015 | YoY Change |
| Neurology, Generics | $544.7M | $539.3M | 1% |
| Gastrointestinal | $343.0M | n/a | n/a |
| Dermatology | $228.6M | $398.5M | -43% |
| Consumer | $156.7M | $155.5M | 1% |
| Ophthalmology Rx | $90.7M | $129.1M | -30% |
*Chart does not include all drug categories
Another critical part of Papa's job will be to regain the trust of debt holders. The long-term term debt, which ballooned under his predecessor, rose to $31.1 billion as of March 31, from $30.3 billion three months earlier.
(An earlier version of the story corrected the date of last month's conference.)
Before it's here, it's on the Bloomberg Terminal.
LEARN MORE