U.S., China Agree on Yuan Role While Sparring on Factories
Bloomberg News
Americans will continue to press China on overcapacity

Two largest economies conclude annual bilateral dialogue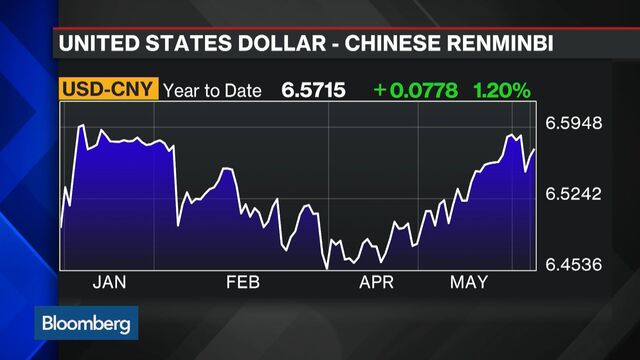 U.S. and Chinese officials agreed to give the yuan a foothold in America while sparring over how to address excess capacity in China's steel and aluminum industries, illustrating both the progress being made and hurdles that remain in their economic relationship.
Finishing two days of annual bilateral talks in Beijing on Tuesday, China said it will let foreign institutions raise 250 billion yuan ($38 billion) in the U.S. to be invested in Chinese markets. China will also allow an American bank, which wasn't identified, to clear yuan transactions outside of the mainland, with U.S. Treasury Secretary Jacob J. Lew saying participation in the yuan market opens an "important door."
QuickTake The People's Currency
At the same time, progress was mixed on U.S. efforts to get China to reduce overcapacity that America complains is distorting global markets. Lew said there was a "good agreement" on steel and the outcome from the capacity talks was "quite strong," with China restating commitments and agreeing to let market forces determine which facilities are creating excess production. He expressed disappointment on a lack of a similar conclusion on aluminum.
"They made clear their commitment to action and we will stay very much on it," Lew said at a press briefing. "If we don't see progress we will raise the issue again."
The fitful progress on the economic side of the Obama administration's final Strategic and Economic Dialogue was mirrored in diplomatic discussions led by U.S. Secretary of State John Kerry. While the two sides pledged more cooperation on North Korea's nuclear program, climate change and commercial fishing in the Arctic, they made no headway on resolving tensions over Chinese territorial claims in the South China Sea.
A joint statement from the two sides on the economic talks repeated last year's language that the Federal Reserve is expected to raise interest rates and will "conduct policy in a transparent and, to the extent possible, predictable manner." Fed Vice Chairman Stanley Fischer attended the talks.
More Trust
American and Chinese officials used the talks to discuss a wide range of issues including the global economy, financial stability and regulatory cooperation as well as open trade and investment.
Policy makers from both countries emphasized that communication between the U.S. and China continues to improve, though increased cooperation and trust is still needed. 
Lew reiterated the administration's desire for China to press ahead with its reform agenda, especially with regard to the country's transition to a market-based exchange rate. He praised China for committing "to continue market-oriented exchange-rate reform that allows for two-way flexibility, while stressing that there is no basis for sustained depreciation" of the yuan.
Chinese officials pushed back on U.S. concerns over excess capacity, with Finance Minister Lou Jiwei saying in a press briefing that while the government is addressing the issue, the economy isn't centrally planned and private firms would not take instructions from the government. China Vice Premier Wang Yang noted that in-depth discussions were needed to address overcapacity.
— With assistance by Victoria Stilwell
Before it's here, it's on the Bloomberg Terminal.
LEARN MORE