This Lab Is Making the Plastics of the Future — From Bacteria
Researchers are creating biodegradable bags and bottles with E. coli and sugar.
by and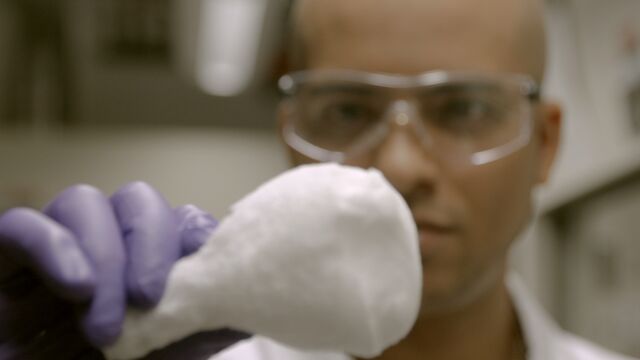 What if you could take one of the most useful, versatile materials known to humans and make it a lot less awful? 
Most plastics are made from petroleum, a non-renewable resource, and can take hundreds of years to break down. At the University of Minnesota's Center for Sustainable Polymers, researchers are working to bring an oxymoron to life: environmentally friendly plastics.  
Watch the full video, the first in Bloomberg's Unsolvable series.
A recent breakthrough uses bacteria and sugar as the starting point to create a recyclable foam. Most traditional foams aren't recycled. If they are, they're chopped up and broken into a degraded material. But if this foam is collected, it can be chemically broken back down into its precursor and used to create new foams over and over again.
An ideal bioplastic would not only look like and perform as well as petroleum-based plastics, it would be just as cheap and easy to produce. If consumers don't have to pay a premium for sustainability, green plastics could make their way into grocery stores, housing insulation, even pillows. 
Before it's here, it's on the Bloomberg Terminal.
LEARN MORE