Ryan Unveils GOP Agenda as Party Awaits Trump's Policy Plans
By
House speaker announces anti-poverty recommendations

Ryan describes 'positive' plan that can be used in campaigns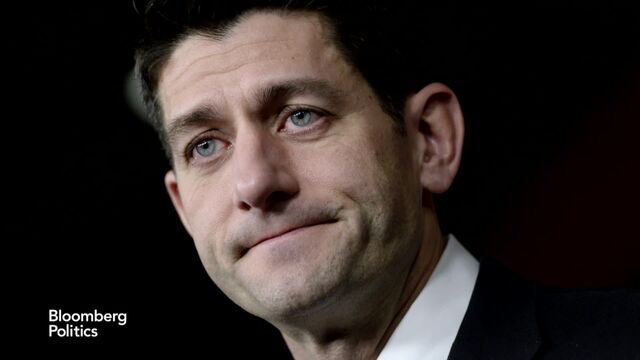 Speaker Paul Ryan unveiled the first plank of a House Republican legislative plan aimed at carving out an agenda for a party whose presumptive presidential nominee, Donald Trump, hasn't offered many detailed policy positions.
Proposals aimed at fighting poverty are the first of six policy areas that Ryan and House leaders are addressing in their "Confident America" project. 
The House plan Ryan announced Tuesday includes measures to give states more incentives to get people back to work faster or risk losing matching federal funds; to change how unemployment insurance works; and to give states more flexibility in transitioning many welfare programs into block-grant programs.
"We think the way to fight poverty is to fight its symptoms," Ryan said at a news conference at a residential treatment center in Washington's Anacostia neighborhood. "We need to get to the root causes of poverty to fight the cycle of poverty."
Other proposals are aimed at boosting greater retirement savings, including expanding access to 401(k) retirement accounts, making it easier for small businesses to get together and provide such accounts, and changes to the Dodd-Frank financial regulation law that Republicans say would expand access to basic banking.
The recommendations are aimed at building a legislative agenda for Republicans in 2017, but they will also provide a benchmark to evaluate whether Trump's policy agenda lines up with that of House Republicans. A national security plan is set to be unveiled Thursday.
War on Poverty
In documents released describing the plan, Ryan said it would create "a better way to fight poverty," based on the notion that upward mobility won't come through more government safety-net spending and programs.
Asked at the news conference about Democratic proposals to raise the federal minimum wage, Ryan said, "That will do more harm than good" reducing the number of entry-level jobs.
"The whole point is having an economy that bids up wages" with better education and skills training, the speaker said.
Ryan's proposal starts with a basic assertion that Americans today are no better off than when President Lyndon B. Johnson unveiled his "Great Society" program and the "war on poverty" in 1964, a claim many Democrats and others dispute. 
Billed as the work of a special House task force, the package builds on a number of ideas that Ryan, of Wisconsin, and other conservatives have previously advocated. Two years ago, Ryan released a plan to overhaul the nation's welfare system, including replacing most federal programs with block grants to states.
Altogether, Ryan said it will be a positive legislative agenda for 2017 that House Republicans can use in their campaigns. And he wrote in an op-ed last week, in endorsing Trump, that he was confident his party's presumptive presidential nominee "can make it a reality."
Democrats quickly panned the plan. Rosa DeLauro of Connecticut, the top Democrat on the House Appropriations subcommittee that funds health and labor programs, said in a statement that the claims by Ryan and Republicans that the poverty rate has remained flat since Johnson's war on poverty began in 1964 are misleading and "distort the truth."
"The poverty rate has fallen substantially since we began the war on poverty, and as of 2014, we have cut the overall poverty rate by 40 percent, and the child poverty rate by 35 percent," DeLauro said.