Putin Signals He Won't Block Move to Fix Israel-Turkey Ties
David Wainer
Netanyahu, in Moscow, sees 'decent chance' of Turkey deal

Leaders pledge to work on tightening their commercial ties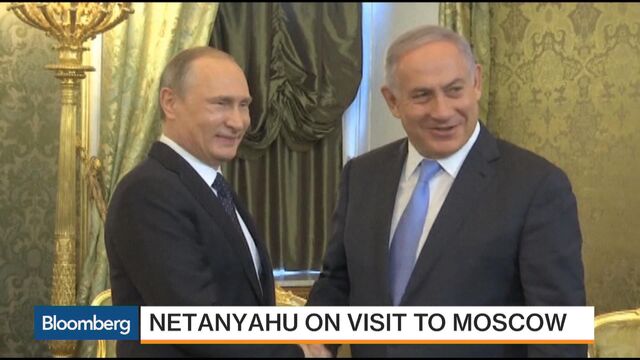 Prime Minister Benjamin Netanyahu said there's a "decent chance" Israel can reach a deal to repair its relations with Turkey, a day after Russian President Vladimir Putin suggested his own country's strained ties with Ankara wouldn't be an impediment to ending a six-year diplomatic rift.
Addressing Israeli media Wednesday at the end of a three-day visit to Moscow, Netanyahu says he updated Russian officials on the status of reconciliation talks with Turkey. That came a day after Russian President Vladimir Putin said he felt "exceptionally positive" about efforts to achieve a rapprochement between the two Mediterranean powers.
"We believe that any movement of these states and peoples toward each other will have a positive impact on the international situation in general," Putin said at the Kremlin on Tuesday. "We welcome this process."
Gas Diplomacy
Russia imposed economic sanctions on Turkey after it downed a Russian combat plane that approached Syria's border with Turkey in November.
Turkey's efforts to reconcile with Israel, a prospective gas exporter, have heated up since the faceoff with Russia, with officials on both sides saying an agreement is near. Turkish-Israeli diplomatic relations began deteriorating after Recep Tayyip Erdogan led an Islamist government to power in Ankara in 2003, then broke down over a deadly Israeli naval raid on a Turkish-led flotilla trying to breach Israel's blockade of the Gaza Strip in 2010.
Israel and Russia have squared off over Moscow's involvement in Iran's nuclear program and its deal to sell Tehran sophisticated S-300 air-defense systems, but military coordination has tightened since Russia intervened on behalf of the Syrian government in its war against rebels last year. At the same time, with the U.S. and European allies pressuring Israel over its policies toward the Palestinians, Netanyahu has sought to forge stronger economic and diplomatic ties with countries that want to tap Israel's technological know-how and are less concerned about the Israeli-Palestinian conflict.
Netanyahu's visit to Moscow was intended to mark 25 years since the restoration of ties between the former Cold War foes. Israeli exports to Russia have risen about 40 percent to $1.1 billion since Netanyahu took office in 2009, and the two countries signed energy and agriculture deals during this week's visit.
Ties That Bind
Putin said he and Netanyahu gave "serious attention" to boosting commercial ties, and that Israel and the Russian-dominated Eurasian Economic Union will begin talks on a free-trade zone this year. Cooperation on energy projects also is possible, the Russian president added.
More than 1 million Russian speakers have emigrated to Israel, and at an event Tuesday night at Moscow's Bolshoi Theater, Putin grasped Netanyahu's hand while praising the two countries' shared heritage. The warming ties stand in contrast to Netanyahu's frosty relations with President Barack Obama, which have been strained by the U.S.-led nuclear deal with Iran and Israeli policies toward the Palestinians.
In his comments to Israeli media Wednesday, Netanyahu stressed that he doesn't see Russian support as a replacement for U.S. backing.
"There is no alternative to very strong U.S. ties," he said.
Tighter Coordination
Ahead of the visit, the prime minister's office had said the two leaders would discuss the implementation of Russian promises to help Israel block the transfer of weapons through Syria to Iran-backed Hezbollah militants in Lebanon.
A close call with Russian forces operating in Syria had underlined the need for better cooperation with Moscow, Netanyahu said Wednesday.
"Because we operate in proximity to each other, the need to coordinate is very high," he said. "There were problems uncovered on the ground, and they have since been solved."
Backing Assad
Russia has been expanding its presence in the Middle East as the U.S. resists being drawn deeper into the region's conflicts. Russia entered the Syrian civil war to prop up President Bashar al‑Assad, an ally of Iran and Hezbollah, yet its engagement with Israel shows it wants to be seen as a global power helping to reduce regional tensions, said Zvi Magen, a former Israeli ambassador to Russia and the Ukraine
"Russia is backing Assad, but Putin is cognizant of the fact that Israel is a regional power and that if he wants a greater regional role, positive relations with Israel are important," said Magen, a senior research fellow at the Institute for National Security Studies in Tel Aviv. "Putin would like to be involved in Israel-Palestinian talks, so it's important for him to be seen as a trusted partner."
Israel has largely stayed out of the conflict but has voiced fears that the Syrian-held section of the Golan Heights will become a launching pad for militant attacks against it. Netanyahu confirmed in April that Israel operates over the border to prevent Hezbollah from obtaining game-changing weapons, although officials have declined to comment on reports of Israeli involvement in specific attacks.
"We believe a solution to the Syrian situation is far off," he said Wednesday.
Before it's here, it's on the Bloomberg Terminal.
LEARN MORE