RBA Keeps Ammunition in Reserve as Risks Loom From Fed to Brexit
by and
Benchmark rate kept at 1.75%, bank declines to give guidance

Traders have pared their bets on easing by Governor Stevens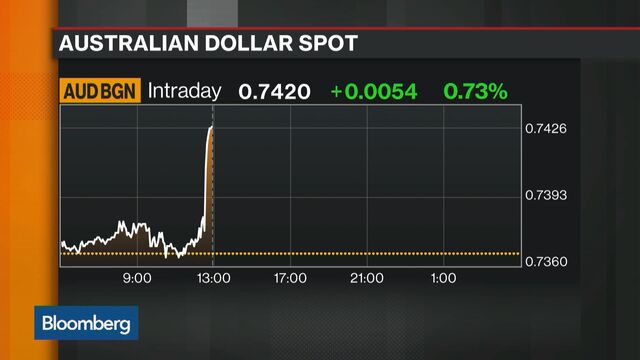 Traders are betting the Reserve Bank of Australia will save its dwindling monetary policy ammunition as international risks mount from Washington to London.
While weak inflation gives Governor Glenn Stevens room to follow May's interest-rate cut with more easing, swaps traders are betting even an August reduction is only about a 40 percent proposition. The board on Tuesday held the cash rate at 1.75 percent and Stevens noted "attention is now turning to some particular event risks."
More market gyrations loom this month from potential policy and political shocks in a year that has already seen the Australian currency swing between 68 and 78 U.S. cents. While the prospect of U.S. Federal Reserve tightening has ebbed after a weaker-than-expected jobs report, opinion surveys in the U.K. show increased chances voters will choose to leave the European Union when they head to the polls June 23. The Bank of Japan is also due to decide its next move on June 16.
"They have that many things that are going on, particularly over the month of June, that could cause a lot of volatility and could actually have a negative impact on growth, and that's probably what they want to save their ammunition for," said Martin Whetton, a Sydney-based interest-rate strategist at Australia & New Zealand Banking Group Ltd. "If things went pretty badly then they can use that in August, when they've also got the excuse of that significantly lower track for inflation."

Fixed-income traders have scaled back expectations for when the Fed will embark on its second interest-rate hike this cycle, even as Chair Janet Yellen says she's fairly sure the U.S. economy will improve enough to cope with tighter policy. That's helped drive the Australian dollar to a one-month high, a potential trigger for the RBA to act again at some point, while the lack of certainty from the world's most influential central bank could spur volatility and undermine global confidence.
The risks surrounding a potential British exit from the EU, or Brexit, have also been in evidence this week. Opinion polls suggesting an increase in the number of voters backing the 'Leave' case caused the pound to tumble on Monday, and the consequences of such a vote are a significant unknown for global markets and economies.
Australian 10-year yields fell three basis points to 2.16 percent as of 11:45 a.m. on Wednesday in Sydney, after touching a record-low 2.14 percent on Tuesday. The Australian dollar retreated 0.2 percent to 74.44 U.S. cents, after reaching a one-month high of 74.64 Tuesday.
BOJ, Aussie Election
Wariness over Japanese policy makers is also a potential issue, as is the outcome of Australia's federal election. A vote that fails to provide a decisive outcome on July 2 could stymie government action and act as a brake on growth.
One of the key domestic factors driving RBA bets has been the outlook for inflation. Although the central bank is forecasting the pace of consumer-price gains will remain below its target range for the rest of this year, the board said Tuesday that keeping its stance unchanged would be consistent with inflation returning to target "over time." While it also made note of economic growth -- which accelerated to 3.1 percent in the second quarter of 2016 -- it did not give any explicit foreshadowing for its next rate move.
"The RBA has given no guidance and by doing that they have kept their options open," said Damien McColough, head of fixed-income research at Westpac Banking Corp. in Sydney. "The three points that will influence policy going ahead are Brexit, the U.S. Fed and domestic inflation data. The RBA is clearly data dependent now."
Before it's here, it's on the Bloomberg Terminal.
LEARN MORE