Rajan Turns Spotlight on Modi as Future in India Still Murky
by and
'You will know when there is news': Rajan on term extension

Rajan holds rate at five-year low as inflation risks increase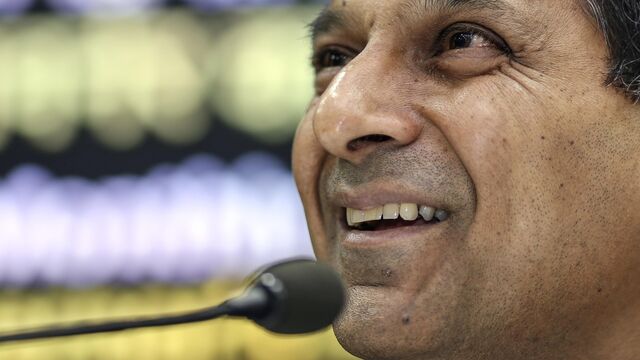 With a brief and humorous statement on Tuesday, Indian central bank Governor Raghuram Rajan deftly threw the ball into the government's court regarding questions about his future.
"It will be cruel for me to spoil the fun the press is having with all this speculation," Rajan said with a grin in his customary press briefing after monetary policy decisions. "I'm personally intrigued by all the letters I'm supposed to have written."

He then said a decision would be reached after discussions with the government, and that reporters should watch statements from Prime Minister Narendra Modi and Finance Minister Arun Jaitley: "I'm sure you will know when there is news."
What Rajan patently didn't do was to rule himself out for an extension beyond Sept. 4, following a local newspaper report last week that said he did just that in a meeting with Modi. The report, written by a longtime Delhi journalist for one of India's largest newspapers, prompted the rupee to slide.
For a story on speculation over Rajan's future, click here.
'Market-Moving Event'
Rajan refused to address his extension in an interview with NDTV on Wednesday. In the longer term, he said his plan is to return to academia and "the realm of ideas."
So far, Modi has shown little urgency in clearing up the matter, saying last month that a decision could wait until closer to when Rajan's term ends in September. Jaitley has similarly declined to clarify the issue, while another cabinet member told reporters last week that no senior government official would comment on Rajan.
Past practice indicates that a resolution might not come until August -- plenty of time for more speculative reports that could impact the currency, stocks and bonds. Even so, the markets may prod Modi into action before then, particularly if volatility increases due to a possible Brexit or U.S. interest-rate rise.
"It has become a market-moving event," Kunal Kundu, a Bengaluru-based economist at Societe Generale SA, said of Rajan's future. "When there's too much speculation, why allow it to foment? Either way, just put a stop to it. How does waiting till the last moment help? I don't see any benefit or value in waiting till the last moment."
Anti-Rajan Campaign
While Rajan's statement left room for interpretation, it had a clear subtext: Don't believe everything that appears in print. It also signaled that more talks were needed before anything is finalized.
Rajan's removal would risk undermining sweeping reforms implemented since he took office, including a shift to inflation targeting. The former International Monetary Fund chief economist has built up foreign reserves, stabilized the rupee and advocated for fiscal discipline as India's economy grows faster than a slowing China.
"If he were to go the implication would definitely be a weaker rupee for sure, definitely a lack of investor confidence in India," Peter Kinsella, head of emerging markets research at Commerzbank AG, said on Bloomberg TV on Tuesday. "It would be a big, big loss for India."
Part of the reason that Modi's administration is staying silent on Rajan is a public campaign by a prominent ruling-party member to oust him for failing to cut interest rates fast enough. The lawmaker, Subramanian Swamy, has also continued to question Rajan's allegiance to India, saying that he's "mentally not fully Indian."
"There are certain allegations which are so fundamentally wrong and baseless that to even address them would be to give them a legitimacy they don't deserve," Rajan told NDTV when asked about Swamy's criticism. Every Indian has a different way of showing their love of the country, Rajan added, when asked about Swamy's comments on his 'Indianness.' He then shared his view on the topic: "Do your work, and hope that that reflects your love also."
A day earlier, Rajan held the benchmark rate at a five-year low. Risks have increased against his inflation target of 5 percent by March 2017, and a weak global scenario threatens to keep private investment low.
The policy statement "broadly endorses" the government's expectation of economic growth and inflation, Shaktikanta Das, a top bureaucrat in the Finance Ministry, wrote on Twitter.
Guessing Game
The rupee, one of Asia's worst performers this year, rose as much as 0.1 percent for a fifth day of gains, according to prices from local banks compiled by Bloomberg.
Markets will be volatile until there is clarity on whether Rajan stays or goes, according to Sonal Varma, an economist at Nomura Holdings Inc. in Mumbai.
"Our assumption is that his term will get extended but we don't have any information on this," she said. "But that's a baseline assumption because typically historically all governors have got an extension in general. Markets obviously attach a lot of credibility to the current governor."
It's not as if Rajan is desperate for a job. He is currently on leave from the University of Chicago, where he has taught on and off for more than a decade.
While government officials are now treating Rajan's extension like a simple bureaucratic appointment, they will probably make an announcement soon due to political and market pressure, said N. Bhaskara Rao, chairman of the New Delhi-based Centre for Media Studies, a policy research group.
"In a month they will announce the name to end the debate," he said. "Till then, the guessing game by the media will continue."
Before it's here, it's on the Bloomberg Terminal.
LEARN MORE