Rajan Urges Patience on His Future After Holding India Rates
by and
RBI to stay accommodative as inflation uncertainties abound

Rajan on new term: 'I'm sure you will know when there is news'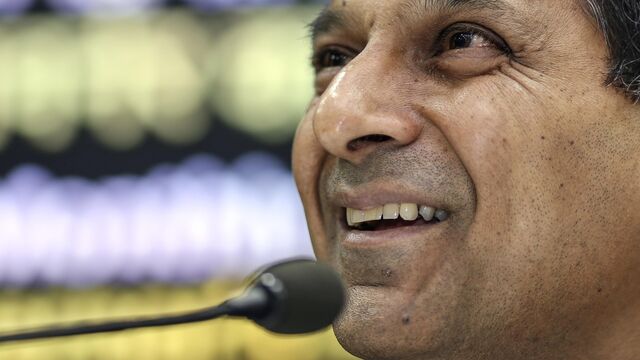 Indian central bank Governor Raghuram Rajan urged patience regarding his future plans after holding interest rates at a five-year low.
"In all such cases the decision is reached after discussions between the government and the incumbent," Rajan told reporters in Mumbai on Tuesday. "I'm sure you will know when there is news. I cannot do better than to point you to the statements of the finance minister and the prime minister on this."
Rajan's removal when his three-year term ends in September risks undermining sweeping reforms implemented since he took office, including a shift to inflation targeting. The former International Monetary Fund chief economist has built up foreign reserves, stabilized the rupee and advocated for fiscal discipline as India's economy grows faster than a slowing China.
For a story on speculation over Rajan's future, click here.
A prominent ally of Prime Minister Narendra Modi has led a public campaign for Rajan to be dismissed for failing to cut interest rates fast enough. Modi said a decision would be taken closer to September, and Finance Minister Arun Jaitley has denounced personal attacks on Rajan while declining to say whether he would be offered another term.
"The belief in the market is that he will get an extension," said Prasanna Ananthasubramanian, chief economist at ICICI Securities Primary Dealership in Mumbai. "If there is anything to change the belief, you will see more of a reaction."
Last week the rupee and bonds fell after a local-language newspaper reported that Rajan wants to leave the position even though Modi wants him to stay on. Neither side commented on the article, which was written by a long-time Delhi journalist from one of the country's biggest newspapers.
'Spoil the Fun'
"It will be cruel for me to spoil the fun the press is having with all this speculation," Rajan said. "I'm personally intrigued by all the letters I'm supposed to have written."
Rajan kept the benchmark repurchase rate at a five-year low of 6.5 percent, the Reserve Bank of India said in a statement in Mumbai on Tuesday. The move was predicted by all 44 economists in a Bloomberg survey, after data showed consumer prices jumped in April.
"The inflation surprise in the April reading makes the future trajectory of inflation somewhat more uncertain," the central bank said. "Given the uncertainties, the Reserve Bank will stay on hold, but the stance of monetary policy remains accommodative."
Key points from the statement:
April inflation projections retained with "upside bias"
Realization of the weather department's forecast of above-normal rainfall crucial for agriculture outlook
FY17 GVA growth projection retained at 7.6 percent "with risks evenly balanced"
Public investment gaining strength, but private investment still a concern
More monetary transmission "critical" to support growth revival
RBI to soon review banks' implementation of new rate-setting framework
RBI will provide liquidity as needed but progressively bring entrenched system cash deficit closer to neutrality
"A strong monsoon, continued astute food management, as well as steady expansion in supply capacity, especially in services, could help offset" upward inflationary pressures, the central bank said.
The policy statement "broadly endorses" the government's expectation of economic growth and inflation, Shaktikanta Das, a top bureaucrat in the Finance Ministry, wrote on Twitter.
Rupee Gains
Forecasts of above-average monsoon rains stand to ease food costs and boost rural consumption after back-to-back droughts. At the same time, a looming pay rise for government employees and higher oil costs pose risks to Rajan's inflation target of 5 percent by March 2017.
The rupee strengthened 0.3 percent to 66.7475 a dollar as of 12:59 p.m. in Mumbai, a fourth day of gains, according to prices from local banks compiled by Bloomberg.
The currency will face more pressure in September as India starts paying back the majority of $34 billion in emergency foreign-currency swaps to overseas investors. While the central bank has been buying dollars, investors should expect volatility in the exchange rate, according to economists at Kotak Mahindra Bank Ltd.
Swap traders aren't pricing in any more cuts through 2016, according to data compiled by HSBC Holdings Inc. A separate survey of economists shows expectations for one cut this year, in the October-December quarter.
The monetary authority and government are setting up a new rate-setting committee and are also in the middle of a $120 billion clean up of stressed assets at banks. Lenders have until March 2017 to improve their books, and much of this urgency can be attributed to Rajan and his use of the bully pulpit to put a spotlight on the area.
"We are working together with the government on facilitating the process," Rajan said of the bank clean up. "However, and let me emphasize this, there is no intent to go back to days of forbearance or reverse the move towards transparent bank balance sheets."
Before it's here, it's on the Bloomberg Terminal.
LEARN MORE