Pound's Round Trip Shows Trader Fickleness as Brexit Vote Nears
by and
Sterling is 2016's worst-performing developed market currency

Pound spiked more than 1% as traders speculate on 'fat finger'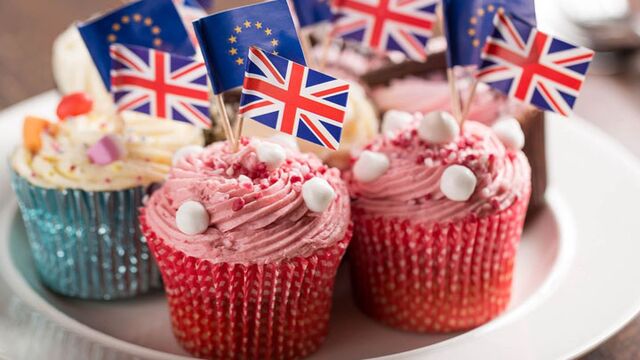 After more than 24 hours of conflicting polls, spiking currency volatility and suspected fat fingers, the pound is back above where it ended last week.
Brexit Watch: The pound, the polls, and the probability of Brexit, all in one place
With just 16 days before the U.K. votes on whether to remain in the European Union, expectations for swings in sterling over the coming month climbed to a fresh seven-year high. The pound jumped more than 1 percent against the dollar in about one minute on Tuesday just after 2 p.m. in Tokyo, with a trader speculating that a mistyped transaction had triggered automatic orders to sell or buy currencies to avoid losses.
The previous day the pound was pushed as much as 1.1 percent lower after polls signaled a lead for voters who support leaving the 28-nation bloc in the June 23 referendum.
"Taking a stance on what is going to happen on June 23 and sticking with it between now and then is just not a way you can trade sterling," said Adam Cole, head of global foreign-exchange strategy at Royal Bank of Canada in London. "The way we are treating it is much more tactically on the information flow and not trying to cling on to a view for any length of time."

The pound climbed 0.9 percent to $1.4571 as of 4:31 p.m. in London, and earlier touched $1.4660, its highest level this month. The short-lived 1.5 percent gain was its biggest intraday advance since March 17. Sterling strengthened 1 percent to 77.87 pence per euro.
"Could be stops going off in thin liquidity," Joseph Capurso, a senior currency strategist in Sydney at Commonwealth Bank of Australia, said by instant message after the spike during Tokyo trading. "Can't imagine GBP is liquid in Asian trading hours."
QuickTake Will Britain Leave the EU?
Brexit Risk
Sterling's climb comes after it dropped in early trading Monday, as three polls were released showing more Britons favor quitting the EU than staying. Two more surveys that came later the same day showed slim leads for the "Remain" camp.
"If I had a bias at the moment it would probably still be negative on sterling but i think most of that work has been done," RBC's Cole said. "If the information and news flow changes in the next few days, I can turn bullish. I just don't think you can trade the currency strategically when you have a single big binary event like that."
At the U.K.'s sale of 30-year gilts Tuesday, investors bid for 1.37 times the debt offered, the lowest bid-to-cover ratio since 2007.
Traders Prepare
As Brexit risks become more imminent, traders and market operators around the world are preparing for the decision. Margin requirements are getting raised, bank traders will be working overnight in London, and investors from Thailand to Boston are waking up to how their positions may be affected if Britons choose to leave the trading bloc they've been in since 1973.
The pound has been a gauge of sentiment throughout the referendum debate. It slid to a seven-year low of $1.3836 in February, and remains the worst performing developed-market currency this year.
"We expect 'Remain,' but the issue is the polls are really, really close," David Owen, chief European economist at Jefferies International Ltd., said in an interview with Anna Edwards and Manus Cranny on Bloomberg Television. "This makes it really difficult for markets that want certainty. We have to be fairly cautious going into the 23rd."
Before it's here, it's on the Bloomberg Terminal.
LEARN MORE