Wall Street Vet Edges Closer to Winning Cliffhanger Peru Vote
by
Fujimori trails by 0.30 percentage point as count nears end

Both candidates are market friendly and plan to spend big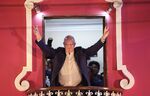 Pedro Pablo Kuczynski, a former central banker and veteran of Wall Street, is getting closer to winning the tightest presidential race in Peru's history as the count nears its conclusion.
Kuczynski has 50.15 percent of votes with 99.4 percent of ballots counted, compared with 49.85 percent for Keiko Fujimori, the country's election office said Wednesday. The election office is expected to announce the official winner over the weekend.
"Our calculations indicate that Kuczynski is still going to win, but by the narrowest of margins," Guillermo Loli, opinion polling manager at Ipsos Peru, said yesterday. "We're finishing the election in the worst way, with the country split in two and no clear winner, which could complicate things in terms of governability."
The presidential race is going down to the wire as Peruvians remain divided over the legacy of Fujimori's father, Alberto, an autocrat who led the country from 1990 to 2000 and is currently languishing in jail for corruption and authorizing death squads. Opposition to Fujimori has led many people, including supporters of the former left-wing candidate Veronika Mendoza, to rally around the 77-year-old Kuczynski. Others say Keiko Fujimori is the only candidate capable of tackling crime.
As well as stints at the World Bank and Peru's Finance Ministry, Kuczynski has worked at Kuhn Loeb & Co., First Boston and Halco Mining Inc., a bauxite consortium. He also ran his own private-equity firm for a decade.
Peru's sol rose 0.4 percent to 3.30 per dollar at the close of trading, while the country's main stock index fell 0.3 percent.
Congressional Majority
Kuczynski has stressed his willingness to negotiate with other parties should he win office in order to prevent divisions in congress from paralyzing the legislative process.
"We're conciliatory and therefore we'll be able to govern Peru toward a brighter future," he told cheering supporters after Sunday's vote.
Fujimori's party won 73 of the 130 seats in Congress in a parliamentary vote in April, while Kuczynski won 18. It's the biggest parliamentary majority in two decades.
Fujimori has promised to take what was best from her father's era, including smashing the terror group Shining Path and defeating hyperinflation, to tackle rising crime and build the economy. While both candidates are market friendly, her style is more populist, his more internationalist. It's not economics that divide the nation, it's the legacy of Alberto Fujimori.
"I've never seen a margin this small in any election we have covered," Loli said. "It's going to be very, very tight."
Before it's here, it's on the Bloomberg Terminal.
LEARN MORE