Line Defies IPO Drought, Plans Year's Biggest Tech Debut
by
Japan's messaging app to split IPO between Tokyo and New York

Aims to focus on profitability during roadshow with investors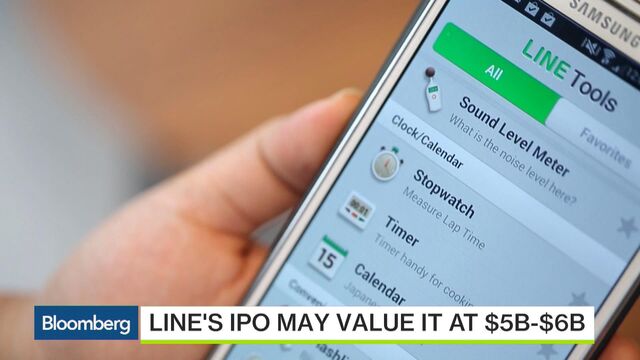 Japan's Line Corp. is headed for what could be the biggest initial public offering for a technology company this year, including a major pitch to American investors.
The company behind one of Asia's most popular messaging apps plans to go public in Tokyo and New York in mid-to-late July, with a goal of raising between $1 billion and $2 billion at a valuation of $5 billion to $6 billion, according to people familiar with the matter. The Tokyo-based company aims to get about half the money from U.S. investors as it plots a long-term expansion there after pushing further into Southeast Asia, said the people, asking not to be identified because the matter is private. Line is already profitable and it will make that a focus for investors when it begins a roadshow toward the end of this month, according to one of the people.
If it reaches its goals, Line would be this year's biggest tech offering globally, according to data compiled by Bloomberg, providing a rare bright spot for the moribund market for listings. No business has raised more than $150 million in a technology IPO in 2016, even though more than 160 private companies are currently valued at $1 billion or more.
"Not just for tech IPOs, but really for any large IPO, the environment isn't great," said Toshihiro Hirao, president of Asuka Asset Management Co. in Tokyo. "It will depend on what level they price it at and what the valuation will be. I imagine the retail folks will buy quite a lot."
The market debut would come two years after Line filed an application to list in Tokyo in July 2014. That offering valued the company at 1 trillion yen ($9.2 billion), people familiar with the situation said at the time. A deal didn't materialize and the company, controlled by South Korea's Naver Corp., later replaced its chief executive officer. Naver shares climbed as much as 3.1 percent to 729,000 won on Tuesday.
The lower valuation for next month's expected listing reflects the company's slowing user growth and a cooling in technology valuations and listings. Global tech companies raised about $900 million in the first quarter of this year, down from $6.5 billion during the same period in 2014 and $2.8 billion in the first quarter of last year, according to Ernst & Young LLP. This year's biggest tech listing is Australia's WiseTech Global Ltd., a logistics software company that raised about $130 million in April, according to Bloomberg data.
Nomura Holdings Inc., JPMorgan Chase & Co., Morgan Stanley and Goldman Sachs Group Inc. are the lead underwriters, according to the people. Tokyo-based Line spokeswoman Icho Saito declined to comment about the company's plans for an offering or its profitability.
For more on the troubled IPO market, read Shira Ovide's column here.
In the private market, several high-profile startups had their valuations slashed late last year as investors including Fidelity Investments lowered their expectations on the profitability of young tech companies. In recent months, Fidelity raised its outlook for certain startups including Snapchat Inc., but further lowered it for others like Dropbox Inc.
Line, led by Takeshi Idezawa, 42, is hoping to stand out by highlighting its profitability to investors during the upcoming roadshow, according to the people who did not provide specifics beyond saying the company is well-beyond break-even. The firm reported revenue of 120 billion yen in 2015, growing by 40 percent from the year prior.

It had 215 million monthly active users at the end of last year, implying that on average it earned $5.10 from each user last year, less than Twitter Inc.'s $7.27 per user and Facebook Inc.'s $11.27 per user for the same period, according to Bloomberg calculations.
Twitter wasn't profitable when it went public in 2013 and has continued to lose money. Facebook was profitable when it listed in 2012 and reported its second-largest net income on record in the latest quarter. Facebook's shares have tripled since its IPO, while Twitter is down by more than 40 percent.
At $5 billion to $6 billion, Line would be valued at 4.5 times to 5.4 times its 2015 sales, according to Bloomberg estimates. That's cheaper than Facebook's price-to-sales ratio of 11.4 times, based on revenue estimates. It's also cheaper than Tencent's 8.7 times ratio, but more expensive than Twitter's 3.6 times ratio.

Line wants to expand the amount of revenue it gets from advertising, according to one of the people. Ads made up 35 percent of sales in the latest quarter, with another 35 percent coming from content, including revenue from smartphone games. Communications-related products such as digital stickers accounted for about 22 percent.
Advertising made up 89 percent of sales at Twitter and 97 percent at Facebook. Line's effort to boost ad revenue include its January acquisition of M.T. Burn Inc., a Japanese startup that develops native advertising software. Proceeds from Line's IPO will be used to boost marketing, expand operations and potentially pursue deals for rival messaging apps, according to one of the people.
Besides profitability, Line plans to make its strength in fast-growing Asian countries such as Indonesia a focal point of the roadshow, one of the people said. Its home country of Japan now makes up a minority of Line's monthly active users. Idezawa attributed the company's success in Asia to a flexible approach of adopting a different strategy in each country.
Listing half of the offering in New York is symbolic of the company's goal to push into the North American market in the future, according to the people. The company believes it can compete with rivals Facebook and Snapchat by offering a platform that ties in communication with everyday services such as catching rides, ordering food, booking restaurants, and paying at stores.
Facebook is experimenting with a service that lets users order Uber taxis and buy pizzas by chatting with bots on its Messenger app, harnessing artificial intelligence to expand its platform beyond social media and communication. In April, Line launched a research division that focuses on machine learning and big data, which it plans to leverage to develop new services and refine content and ads.
Before it's here, it's on the Bloomberg Terminal.
LEARN MORE