LendingClub Stumbles Anew, Delaying Meeting With Investors
by and
Stock falls further as Tuesday event is delayed until June 28

Second-biggest shareholder says it disposed of entire stake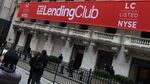 LendingClub Corp., once the darling of a Silicon Valley movement looking to supplant banks, abruptly adjourned its annual shareholder meeting Tuesday, saying it wasn't ready to address investors after a leadership shakeup last month.
The company's announcement, just as the event was to start, pushed its stock down 7.4 percent by the close of trading in New York, bringing this year's slide to 60 percent. Fund manager Baillie Gifford & Co., once the venture's second-biggest shareholder with a stake of about 9 percent, separately disclosed Tuesday it had disposed of the stock by the end of May.
Acting Chief Executive Officer Scott Sanborn is struggling to quell shareholders' alarm over founder Renaud Laplanche's surprise resignation as CEO and chairman a month ago in the wake of a botched loan sale and disclosure lapses. Tuesday's retreat and Sanborn's cancellation of a shareholder presentation Monday is stoking that uncertainty anew as investors seek more information about the company's plans and the stability of its funding for loans.
"It's not OK for them to just say nothing," said Jay W. Lorsch, a professor at Harvard Business School whose focus includes corporate governance. "Shareholders and people in the market who might become shareholders have the right to know what's going on, and the company has an obligation to let them know what's going on."
'Real Embarrassment'
Companies pour time and energy into preparing for shareholder meetings and very rarely cancel them so abruptly, said Erik Gordon, a professor at the University of Michigan's Ross School of Business.
"It's a real embarrassment to do what they did," Gordon said. "Either something has spooked them, or their internal operations really are in a shambles."
LendingClub said it will reschedule the meeting for June 28.
"Given the developments of the last few weeks, the company is not yet in a position to provide its stockholders a complete report on the state of the company," it wrote in a filing. "We appreciate Baillie Gifford's longtime investment and welcome the new investors who have recently joined us," it said in a separate statement.
Rapid Growth
The company was a major source of excitement in the peer-to-peer lending industry just a few years ago, helping make fintech -- for financial technology -- a buzzword on Wall Street. It pioneered the business of matching consumers seeking loans online with investors looking to fund them, and grew rapidly as traditional banks retreated in the wake of 2008's global financial crisis.
LendingClub was the first U.S. company in that industry to go public in late 2014, briefly soaring to a valuation of more than $10 billion after its stock offering. But the shares soon began sliding amid mounting competition and signs that some debts were failing at higher-than-expected rates.
Stock Swings
On Tuesday, LendingClub said it's taking more steps to ensure loans perform well for buyers. The firm is raising interest rates by a weighted average of 55 basis points. It's also tightening criteria for borrowers, lowering the ratio of debt-to-income that it allows applicants to have, according to a filing. And it will allow more time for loans on its platform to be funded.
Investors have been awaiting forecasts for revenue and earnings after LendingClub suspended its projections in the wake of Laplanche's exit.
"There's probably going to be a lot of volatility around the stock until they put out what the expected guidance is going to be" and hold regular annual meetings, said Matt Burton, CEO of Orchard Platform, a data provider for the online-loan industry.
Meantime, the new lending criteria is "good news," he said. "Rising borrower interest rates and tightening credit approvals mean new loans should be higher-performing and possibly more attractive to investors."
Long Slide
The leadership shakeup announced on May 9, and the revelation that Laplanche had resigned after internal reviews, rattled debt investors and shareholders, cutting the stock's price in half that week. The board cited two incidents: Staff had altered application dates on $3 million of loans before their sale, and Laplanche failed to disclose his interests in a fund that LendingClub was considering investing in.
As this week began, the firm said Sanborn and finance chief Carrie Dolan wouldn't speak as scheduled to investors at a Monday event hosted by Stifel Financial Corp. A LendingClub spokesman declined to elaborate at the time on why the appearance was canceled.
Tuesday's announcements raised fresh questions about the status of loan funding and whether the company is pursuing "strategic alternatives," Compass Point Research & Trading analysts led by Michael Tarkan wrote in a note to clients.
"We have received a number of questions from investors this afternoon as to what this could mean, and frankly, there are a number of possibilities," they wrote. "Answers to these questions would clearly have significant implications for LC shares."
Before it's here, it's on the Bloomberg Terminal.
LEARN MORE