Japan's GDP Grows More Than Initial Reading in 1st Quarter
by
Economy expands annualized 1.9% versus 1.7% in initial report

Current account surplus widens to 1.9 trillion yen in April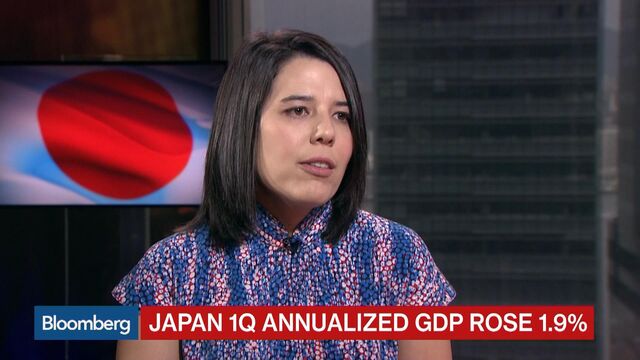 Japan's economy grew slightly more than the government initially reported for the first quarter, helped by a fractional revision in private consumption and business investment that dropped less than first thought.
Gross domestic product expanded by an annualized 1.9 percent in the three months ended March 31, more than a preliminary reading of 1.7 percent, according to revised data from the Cabinet Office released on Wednesday. The median estimate of economists surveyed by Bloomberg was for a 1.9 percent increase.
The upward revision may be some relief to Prime Minister Shinzo Abe, who is struggling to revive Japan's economy and decided to postpone an increase in the sales tax. While GDP rebounded from a contraction in the final quarter of 2015, growth was bolstered in the three months through March by the leap year that provided an extra day of spending. A slowdown in overseas demand and the yen's strength remain risks for 2016.
"I still think the outlook for business investment is quite shaky," Izumi Devalier, an economist for HSBC Securities Asia, said on Bloomberg TV. "Japanese companies are still dealing with a lot of uncertainty in the global outlook."

A separate government report showed that Japan posted a 22nd consecutive monthly current-account surplus. The excess in the widest measure of the nation's trade was 1.9 trillion yen ($17.7 billion) in April, according to the Ministry of Finance.
The yen strengthened after the data and traded at 107.10 per dollar at 9:45 a.m. in Tokyo. The currency has appreciated 12 percent against the dollar this year, hurting exporters while cutting import costs. Toyota Motor Corp. cited the currency last month when it said that annual net income will probably decline for the first time in five years. Meanwhile, the stronger yen is reducing Japan's bill for oil and gas purchased from overseas.
Abe said on June 1 that an increase in the nation's sales tax will be delayed until October 2019 from April 2017, a move intended to support struggling households ahead of an election this summer. He also vowed to take "bold" economic measures in autumn, without providing details.

Wednesday's revised GDP report also shows that:
Compared with the previous quarter, business spending fell 0.7 percent in the January-March period, better than a preliminary 1.4 percent drop.
Private inventories subtracted 0.1 percentage point from first-quarter GDP, compared with a preliminary calculation of zero.

Private consumption, which accounts for about 60 percent of GDP, increased 0.6 percent, compared with a preliminary 0.5 percent gain.
From the previous quarter, GDP grew 0.5 percent in the January-March period.
"Even with the GDP revision, there's no change to the picture that Japan's economy has plateaued and has no clear driver to boost momentum in the months ahead," Koya Miyamae, an economist at SMBC Nikko Securities in Tokyo, said before the report was released.
The effect of the extra day from the leap year may have magnified first-quarter growth by about 0.9 percentage points on an annualized base, according to Miyamae.
Before it's here, it's on the Bloomberg Terminal.
LEARN MORE