Hong Kong Has Plenty of Billionaires But No Billion-Dollar Startups
By
Global count lists 166 startups worth at least $1 billion

Investors, entrepreneurs say city culture, tycoons limit risk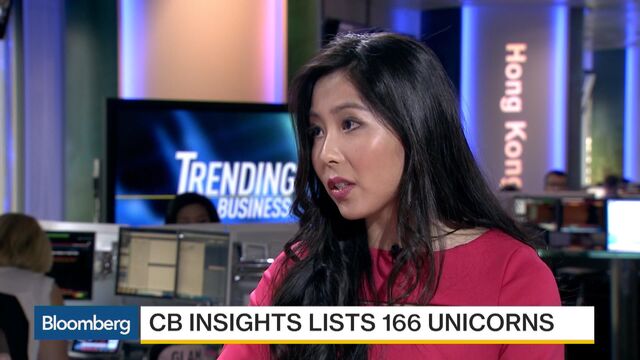 Luxembourg has a unicorn, and so does the Czech Republic. That puts them ahead of Hong Kong, which doesn't have a startup valued at $1 billion-plus even though its economy is bigger than those European countries -- combined.
A global count by CB Insights lists 166 startups as unicorns, with another 50 on the cusp. One's in Nigeria and another's in Scotland, but none are in Hong Kong, a city long considered the entryway to China but whose economy contracted in the first quarter and now is among the worst performers in Asia.

Venture-capital investors, business professors and striving entrepreneurs say the dearth of Hong Kong unicorns stems partly from a cultural norm that favors stable jobs in bedrock financial and real-estate companies rather than risky, go-it-alone propositions. At the same time, businesses often targeted by startups -- such as property and retail -- are controlled by a handful of billionaires, including Li Ka-shing and Lee Shau Kee, who can suffocate any challenges.
"The level of risk-taking is low," said Ali Farhoomand, a business professor at the University of Hong Kong. "It's a society with an old-fashioned way of making money. The young basically are locked into the old formula."
Most of the students taking Farhoomand's course on creativity and innovation are from China or abroad, he said. "I'm just flabbergasted. This gives you a flavor of what's wrong in Hong Kong."

That void of entrepreneurship may be creating a self-fulfilling prophecy. Fledgling Hong Kong companies received $266 million in VC technology-company funding last year -- or about one-third the amount of companies in Singapore, according to Pitchbook Data Inc.
This year, Hong Kong has seen 10 VC investments in technology companies, London-based consultant Preqin Ltd. said May 19. That compares with China's 503, South Korea's 51, Singapore's 37 and Japan's 36.
Tycoon Control
David Shin started his financial technology startup, PayWise, in Hong Kong about two years ago. He said his funding all came from overseas, and ultimately he decided to shut down the company, which used Ripple technology to transfer funds for banks and corporations.
"There was a lot of money in Hong Kong, but a lot of family money -- not institutional or smart money," said Shin, who has since moved to Singapore. "They're not technology-savvy investors. They're more plugged into the real estate or financial markets."
Financing and insurance along with real estate, professional and business services accounted for about 28 percent of Hong Kong's GDP in 2014. The 10 richest people have a combined net worth equivalent to 35 percent of its economy, compared with 5.2 percent in India and 1.4 percent in China.
"The finance and real estate markets are so lucrative, there's no need for people to innovate," said Phil Chen, an adviser at Horizons Ventures Ltd., the private investment arm of Li with a portfolio featuring Facebook and Spotify. "Entrepreneurship is such a hard road."
GDP Troubles
Yet those sectors aren't having such a good year. Hong Kong's gross domestic product fell 0.4 percent in the first quarter from the previous three months. From a year earlier, Hong Kong's real GDP grew in March by just 0.8 percent, slower than 13 other economies in the region, according to data compiled by Bloomberg.
The government has tried, with mixed success, to encourage a startup culture in Hong Kong. Among those was the massive Cyberport development west of downtown. The HK$13 billion ($1.7 billion today) project, aimed at attracting technology companies, was built by Li's son, Richard, after being awarded in 1999 without competitive bidding.
The site overlooking the South China Sea features conference venues, a retail and entertainment complex, a five-star hotel and luxury apartments along with 660 community members, according to the latest annual report on its website.
Government Efforts
InvestHK, set up in 2000 to attract foreign direct investments and businesses, said Hong Kong was home to 1,558 startups employing 3,721 people as of August 2015. The number of startups increased 46 percent last year, the survey said.

"Cyberport is incredibly active," said Jayne Chan, head of investor relations at StartmeupHK, affiliated with InvestHK. "They have to expand their incubation spaces."
Yet a smaller percentage of the founders were from Hong Kong. The proportion declined to 57 percent last year from 60 percent in 2014, according to InvestHK.
The government has started addressing the lack of venture-capital funds in Hong Kong. Chief Executive Leung Chun-ying in January announced an HK$2 billion fund to encourage private funds to invest in startups through a matching process.
Keeping the Beat
InvestHK is using a different approach in its sales pitch for entrepreneurs. Instead of talking up the city's potential for apps like Uber or Yelp, it's selling nearness to the world's factory floor across the border in China's Guangdong province.
"We've been out there promoting Hong Kong as a potential hub, especially on the hardware side, with the proximity to Shenzhen," Chan said.

Soundbrenner makes a wearable metronome that buzzes to the beat on a wearer's wrist. Florian Simmendinger started the business in Germany before deciding that, as a hardware company, Soundbrenner could save money by moving to Hong Kong.
"It gives us access to the supply chain in China," said Simmendinger, the chief executive officer. "Here, we are two hours from Shenzhen."
Doki Technologies Ltd. uses that manufacturing model, as well. Doki developed a smartwatch for children 6 to 12 years old that allows video and voice calls, GPS tracking and emergency alerts. Founded by Hong Konger Casper Chien, Doki has raised money through crowdfunding and private investments.
"People in Hong Kong are generally more practical," Chien said. "Everyone is looking for that immediate return. To be part of a startup takes a lot of guts."