Goldman Sachs Comes Out Bullish on a Strong-Willed Duterte
by
Election pledges could boost growth in one of region's stars

Speed, implementation of policy proposals will be key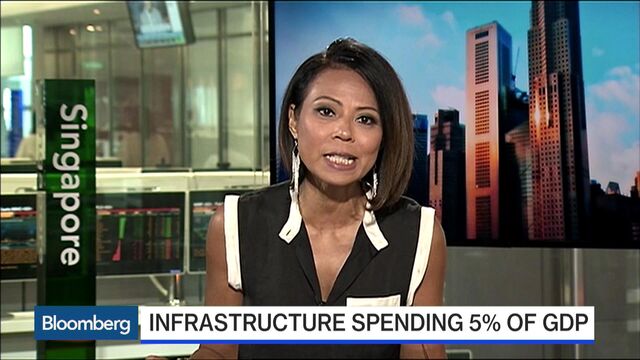 Goldman Sachs Group Inc. says the hard man of Philippine politics could prove a boon for the nation's economy.
President-elect Rodrigo Duterte's election on a mandate to boost infrastructure spending, cut red tape for business and invest more in farming could lift the country's potential growth rate, the U.S. bank's analysts concluded after recent meetings in Manila.

That's an added boost for an economy already viewed as one of the world's best performers, with growth exceeding China's in the first quarter, at 6.9 percent.
"We believe that these proposals, provided they are successfully implemented, could further brighten our already positive macroeconomic outlook for the Philippines," Matthieu Droumaguet, an economist at Goldman, wrote in a report. 
Duterte, the maverick 71-year-old who comfortably won the presidential election held on May 9, has shaken up the Philippine political scene with his brash style and often vulgar speech. He earned votes by vowing ruthlessly to crush crime and corruption -- going so far as threatening to kill 100,000 criminals and feed their bodies to the fish in Manila Bay.
'Strong' Will
In the meetings in Manila, Goldman representatives were told Duterte was "decisive" with "a strong political will," yet also "keen to delegate."
Goldman said the new president's promised policy mix should stoke business confidence and, over the medium term, could raise the economy's potential expansion rate, and pose upside risks to the bank's medium-term forecasts.
"His incoming administration sketches an economic agenda conducive of market-friendly growth-oriented policies, which are likely to continue to fuel the secular growth story of the Philippines," the bank said. "The cabinet formation, optimism of the business community and early pronouncements are all indicative that the upcoming administration will conduct growth-oriented and business-friendly policies."
Goldman expects potential growth of about 6.7 percent with a possible increase to 7 percent early in the next decade fueled by investment, demographics and productivity.

Duterte, scheduled to take office on June 30, inherits an economy that won its first investment-grade sovereign rating under outgoing President Benigno Aquino and has ample fiscal room for the new government to boost spending. 
Incoming finance chief Carlos Dominguez has sought to reassure investors that his new boss is a pragmatic leader and that Duterte plans to continue the policies that spurred the rating upgrade. The incoming government targets spending the equivalent of 5 percent of gross domestic product on infrastructure.
There are risks to the outlook, too. Goldman says much will depend on the execution of the promised changes. Investors will need to keep an eye on indicators such as the pipeline of approved public-works projects, how lawmakers respond to planned tax changes, the World Bank's rankings on ease of doing business and any improvement in crop yields.
"As is often the case, the speed and extent of implementation remains highly uncertain," the bank said.
Before it's here, it's on the Bloomberg Terminal.
LEARN MORE